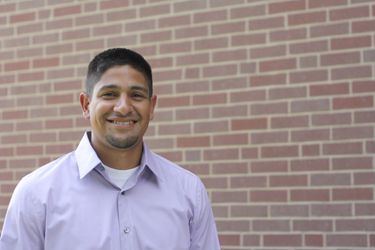 At CEDARS, we recognize the value in everyone's contributions to carry out our mission of helping children find safe and enduring family relationships. The talent, passion, and dedication that each member of the CEDARS team brings to our efforts increases our ability to succeed. Our staff is extraordinary, and so each month, we would like to introduce you to a member of our team.
Meet Rico, Service Director for CEDARS Juvenile Justice Services
Where did you grow up?
I grew up in a small town 15 minutes west of Grand Island: Wood River, NE population 1,250
What was your family like?
I grew up with both my mother and father in the home as well as my 3 brothers. I have one brother that's 2 years younger, one that's 6 years older and one that's 8 years older.
What is your favorite childhood memory?
Playing baseball along with all the other sports. Beginning at age 5 I was heavily involved in athletics. I also enjoyed traveling to all my older brothers' sporting events.
How long have you worked at CEDARS?
I have been with CEDARS for 9 years. When I first broke in with the agency I was a care coordinator. I worked with Office of Juvenile Services state wards who were coming home from a higher level of care. It was my responsibility to assist them in getting back into the community successfully.
What do you currently do at CEDARS?
I currently oversee the Tracker and Electronic Monitoring programs (which serve youth who are at-risk of an out-of-home placement or who are returning home from a higher level of care), the Reporting Center (which helps youth who need a structured environment during the hours that they are not at home to develop life skills), and Education Specialist position.
What is your favorite part about your job?
Working with the team that I have. From the newest member to the most seasoned… Their work ethic, drive and compassion are second to none.
What do you like to do when you're not at work?
I love spending time with my family. Especially going into the yard and playing sports with the kids. I also love spending time with my friends on the golf course.