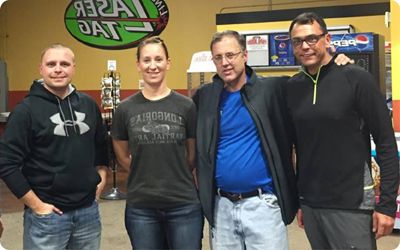 During the first week of November, officers from the Lancaster County Sheriff's office joined with team members from CEDARS and youth in our care for an inaugural meeting, a kick off to what would be affectionately named the "Five-O-Fun Club."
Aided by a community grant, the Five-O-Fun Club meets every other week. Their goal is to bring youth who are struggling with behaviors that could lead them down a path toward involvement with the law together with officers in a casual environment to get to know one another.
Recently, as the youth and deputies were bonding over favorite pizza toppings, one youth drew a picture of Sergeant Tommy Trotter. Trotter returned the favor and drew a portrait of the youth who said he was going to take it home to frame it.
"I love this program." Trotter said. "All of the deputies involved are having the best time getting to meet and positively interact with the kids and staff at CEDARS."
In December, before making gingerbread houses together, youth and deputies engaged in a trust exercise.
They talked about how important trust is. The youth expressed how they wanted to be trusted and the officers listened and shared how they were worthy of trust too.
"I think the fact that they feel incredibly safe with the deputies makes it easier for them to open up," said Megan Shoemaker, Program Manager at CEDARS.