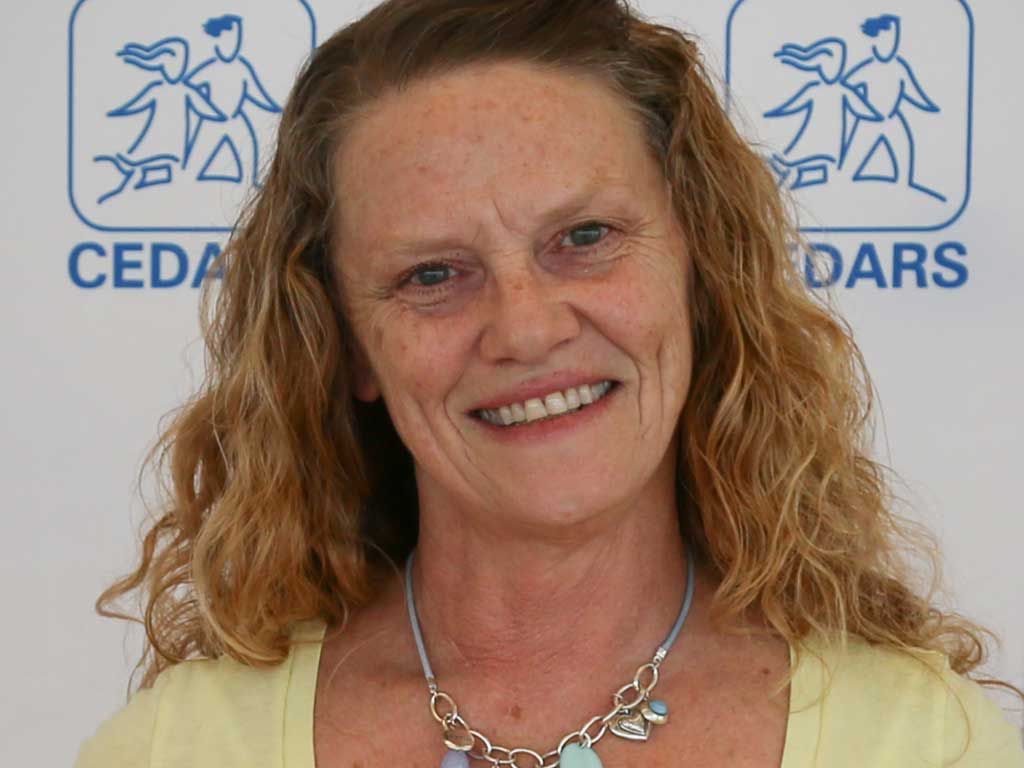 CEDARS team member, Barb, supports youth like Rob with structured supervision.
CEDARS: Hi Barb! Working with kids and youth might make us think about our own childhoods. What stands out to you about your childhood?
Barb: Seeing my first snow. I was eight-years-old when I saw my first snow in Pearl City, Illinois. My mom and dad—he is my step dad but I call him my dad—they really worked to bring our blended family together. We went to visit my dad's sister for Christmas. What I remember the most was that all of her kids were so much older so they didn't have any sleds or snow toys anymore. My dad pulled out a shovel and pulled us around on it for rides.
CEDARS: That's a wonderful memory. What is your typical day like at CEDARS?
Barb: I'm a Youth Specialist II. We conduct education, life skills and vocational groups throughout the day for the youth. We have lunch with them, then conduct team building activities, and general wellness time. We work closely with schools and parents, foster parents, guardians. It's ever changing. You must be flexible.
CEDARS: How long have you worked at CEDARS?
Barb: Four years this May. I started as an intern. That internship led me to find my fit here.
CEDARS: What keeps you coming to work each day?
Barb: The impact we have on kids and their families. Our program really plays an integral part in the success of our clients. I wake up every day with the intent of providing a safe, productive and progressive environment for the youth we serve.
CEDARS: What is something you have learned while working at CEDARS?
Barb: Do you know how many things I've learned? Because really, these kids have taught me more than I could have imagined. But also the need and continued need for community support and CEDARS dedication. We are a part of a very generous, supportive and resilient community. There is always power in numbers. When we all come together we can make change happen.
CEDARS: How do your values play a role in your job?
Barb: You know, sharing values are just a modeling of our program. It's our team. It's who we are. It's what makes us such a strong team. We learn so much from each other. We pull together. When my brother had a heart attack, our team pulled together so I could focus on family and not worry about the team here. I love this agency.
CEDARS: What is your favorite part about your job?
Barb: I think it's just a part of making a change. There's nothing better than starting the day and thinking I'm not winning the day but at the end of the day you reflect and think, yes, I have! I've served the clients and the community!
CEDARS: What do you like to do when you're not at work?
Barb: I love to read and spend time with grandchildren. I write poetry. I've been published three times in different anthologies through the American Poetry Society.
CEDARS: Is there one particular client that you feel was significantly impacted at CEDARS?
Barb: A certain young person was with us because of a lot of tumultuous changes in their life. With compassion and patience, we guided them from such a volatile state to bringing their grades up, and improving attendance at school to graduating and enrolling in college. Now they are employed and have been sober for over a year. To me that is more than successful. That is changing a life. Period.
CEDARS: What is something that everyone should know about your work?
Barb: I believe the best day begins with…check it at the door, greet the day with a smile and a song, spread the cheer and the joy with each face you meet. Empower. Remain empowered. Be thankful for the day. Grateful for rest at night. And always know you are the change.