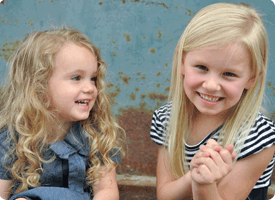 Paige and Piper's story isn't typical.
Linda and Craig Eley had already raised three children when they decided to become Foster Parents with CEDARS. Linda told us, she just knew she wasn't done being a mom.
So, the state placed Paige with the Eley family when she was only three weeks old. Three years later the couple found out that Paige's mother would be having another little girl. Linda and Craig told their caseworker that they wanted to provide a home for Paige's sister if there was a need.
So Paige's little sister, Piper, joined the Eley family when she was 21 months old.
It took some time for Paige to adjust to a new small child in the home, but eventually the girls clicked. Linda explains, "It was a really neat moment when they really connected." Now the sisters (ages seven and three) are inseparable. Paige recently shared with her class at school that her favorite thing to do was make her little sister laugh. Piper tells people that she and Paige "come from the same tummy."
The girls love to run outside. They share a purple bedroom decorated with butterflies. They play 'Go Fish' together. And they call the same place home. Both sisters have officially been adopted by the Eleys.
Linda and Craig are open with the girls about their adoption, "It's their story," Craig says, "And we want it to be their story." But the couple laughs about how normal the girls think their lives are. The other day Paige asked Craig when he was adopted.
"People often look at us as if we've done this great deed (being foster parents), but it's such a blessing. I think they're the one's missing out," Craig shares. Linda agrees, "It's so much fun!"
Paige and Piper's story highlights the value of children experiencing a real childhood. Though the girls have little connection with their biological mother, they will always have each other.
This deep and forever connection with each other would have never been possible, if not for the generosity of our donors. Donor contributions, in no small way, allow sisters 'from the same tummy' to grow up in the same home.
Our work cannot continue without the generosity of our committed donors. If you would like to make a donation, please click here.