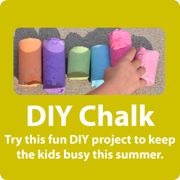 Need a summer boredom-buster?
Try this fun DIY project to keep the kids busy this summer. In a matter of hours, your sidewalks will be transformed into a work of art!
Project Time:
5 hours
Supplies:
Plaster of Paris (Found at local craft or hardware store)
Various Colors Dry Tempera Paint
Paper Towel Tubes, Ice cube Trays, or Candy Molds
Water
Large Bucket
Directions:
Stir together dry tempera paint and Plaster of Paris in large bucket. (Experiment with ratios to darken or lighten the color.) Slowly mix in water until mixture is the consistency of cake batter.
Pour mixture into paper towel tubes, ice cube trays or candy molds. Wait until mixture is completely dry.
Remove chalk from molds and let the creativity flow! (Chalk will wash away from sidewalk with water.)