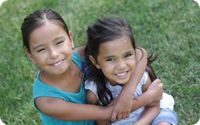 This summer while school is out, CEDARS is keeping kids safe. In partnership with the Community Learning Center (CLC) Initiative, our agency provides K-5 students with supervised summer programs to keep kids safe and engaged, while their parents are working. (The program runs throughout the school year too, providing care before and after school).
For many struggling families, trusted and affordable childcare is the most critical obstacle they face. Programs are located in schools where 93-94% of the student population falls under the poverty line. "Many of the families we work with are hard workers. They work long hours, long days, and often two or more jobs. They really take pride in their ability keep employment. So, we try to make child-care a little more affordable through our programs," explains Amara Madsen, program manager.
In addition to providing a safe environment, CEDARS CLC's are striving to bridge the "summer gap" of learning. This summer students will participate in daily math and literacy activities. They will also participate in a summer-long project with the theme of "Celebrate Culture". Every week kids learn about the food, music, art, and customs of a different culture. At the end of the summer, each student will complete a report on their own family's culture.