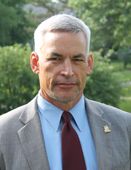 At CEDARS, we recognize the value in everyone's contributions to carry out our mission of helping children find safe and enduring family relationships. The talent, passion, and dedication that each member of the CEDARS team brings to our efforts increases our ability to succeed. Our staff is extraordinary, and so each month, we would like to introduce you to a member of our team.
Meet Jim Blue, President and CEO.
1. Where did you grow up? I've had the pleasure of being a part of the great Lincoln, Nebraska community for my entire life.
2. Tell us about your family growing up. My mother passed away when I was six years old. After that my dad and older brother did a great job keeping our family strong.
3. What is your favorite childhood memory? Among my great memories was going to the Legion Club nearly every Thursday for dinner with my dad and brother. I loved the T-bone steaks!
4. How long have you worked at CEDARS? What was your first position at CEDARS? What were you doing? I was selected to serve as the Executive Director of Youth Service System in 1991. Youth Service System and CEDARS officially merged in 1996.
5. Why did you apply at CEDARS? I have always had a passion for kids experiencing crisis, and I knew that my passion could result in significant impact on children at an organization like CEDARS.
6. What do you currently do at CEDARS? It seems that I do a little bit of a lot of things. Overall though, my ultimate responsibility is to continuously strengthen CEDARS so that we will always be a welcome place for children and youth in need.
7. What is your favorite part about your job? I really enjoy contributing to the positive impact CEDARS has on our community. I also enjoy the people I work with each day. But, most of all, I really enjoy being around kids whenever I can.
8. What do you like to do when you're not at work? Relax with my wife of 29 years and ride my bike long distances – in that order :)
9. Is there one particular client that you feel was significantly impacted at CEDARS? If so, what was their story? The best moments for me at CEDARS are when I have an opportunity to see the difference that we make in a child's life. One particular youth that I had the chance to reconnect with came first to our Emergency Shelter, with her young baby. They later moved to our group home for young ladies and then eventually to an apartment that we provided as she worked to gain independent living skills. We were able to provide this young lady with a scholarship to the University of Nebraska where she earned her degree. She is now married with three children and is a very successful professional. She is so, very grateful to CEDARS and is really dedicated to giving back to us.