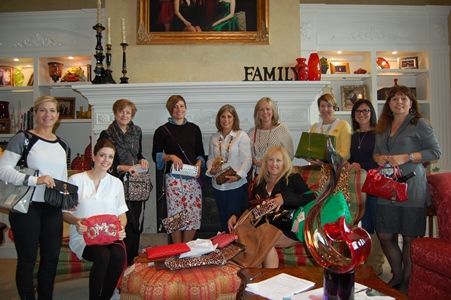 The Purse Snatchers are a volunteer group of women who make Power of the Purse a successful and fun event for CEDARS and our friends by actively pursuing businesses and individuals to donate purses for auction. We recently sat down with them to learn more.
CEDARS: What is your favorite purse you've "snatched" at Power of the Purse?
Purse Snatcher: Five years ago, it was a silver Coach clutch. It went to the last seconds in a bidding war, but I got it.
CEDARS: Do you still have it?
PS: I gave it to my sister.
CEDARS: Which of you has the most purses?
PS: To donate?
CEDARS: No, at home.
PS: (glancing at each other) This could be a tough contest.
CEDARS: Alright. Is there a particular purse you're eyeing to "snatch" at this year's Power of the Purse?
PS: The DVF (Diane Von Furstenberg)—the one with the red lip gloss. Or the Tori Burch—the lime green one.
CEDARS: What's your favorite thing about Power of the Purse?
PS: It's a great time for women to get together and show support for the community.
PS: It's such a unique idea for a fundraiser.
PS: Each purse has a story.
PS: The energy and competition. Everyone's fighting over the same purse. I like that.
PS: I brought my friend to Power of the Purse last year and she said she wanted to become a snatcher with me. And here she is!
PS: The neatest thing is talking to purse donors about CEDARS, telling them what [CEDARS does] I send them personal thank you's and I put in a success story to show them how they're helping. That's my favorite.