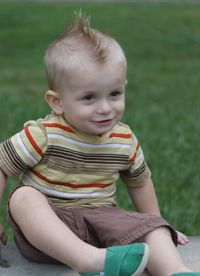 For new and first-time parents life can be overwhelming. Especially without a support system to back them up. Those families overburdened by a new child and lacking the necessary resources are at-risk of abusing or neglecting their child. That is where the Healthy Families program plays a vital role.
Through a collaborative partnership between the Lincoln/Lancaster County Health Department and CEDARS, we are able to assist new and expectant parents, from birth (or prenatally) through 3-5 years to ensure they have the necessary support and knowledge to successfully raise their child. Home visitors work with new parents extensively to help them understand: how to properly care of their child, how to recognize and monitor developmental milestones, the importance of well-checks and immunizations, methods for coping with stress, assistance with vocational and educational goals, diet, nutrition and exercise.
CEDARS and the Health Department have been providing services through Healthy Families since 2008, when it was a first of its kind program. Today, the program is actively working with 24 youth, and was recently awarded national accreditation through Prevent Child Abuse America (PCA America).