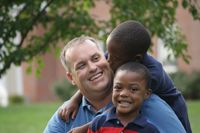 On November 15, 2014, 35 families in Lincoln became the forever families for children adopted on a special day known as National Adoption Day. CEDARS is proud to have been the support to 20 CEDARS kids and their families through this journey. We want to share one family's story with you.
As a result of having experienced severe trauma and abuse very early in life, twins James and Leo often exhibited intense behavioral problems. So when instability in their home persisted, the boys and their older sister, Carrie, were removed from their home.
Initially Carrie was placed in one home and the boys in another. Separating siblings is never CEDARS first plan of action, but the thoughtful decision was made to better support the children and address their needs.
Very soon after their placement, the boys' behavioral problems grew so intense that another thoughtful decision was made to place the two separately. It was very difficult and emotional for everyone involved, but especially for the boys who had always been together. Even though the team knew that the boys needed some time apart to be able to develop better coping skills, and hoped that they would be able to be brought back together under one roof in a healthier situation they were still uncertain of what the future would hold for these boys. Would the boys be able to be reunited? How long would it take? Would their behaviors become worse instead of better?
Meanwhile Gene and Judy Henson, who at that time were fostering Carrie, were deeply responsive to the toll the separation was taking on Carrie. They too desired that she and her brothers be under the same roof. While still adjusting to having one child in their home and wondering what their lives would look like with suddenly three kids, they never questioned their desire to reunite Carrie with her brothers.
When Gene and Judy were granted the rights by the state to adopt Carrie, the couple expressed their interest in adopting James and Leo also. CEDARS set to work, getting the boys in therapy and on appropriate medication. After almost a year of advocacy by CEDARS and Gene and Judy and intense support to James and Leo, the family learned that they would soon be able to be reunited as one big family. All three siblings are now under one roof and thriving.