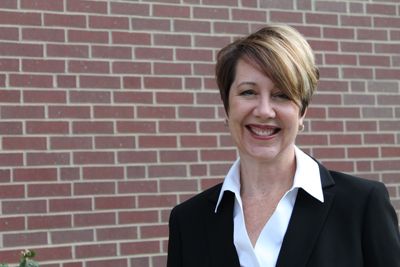 Kristine Morton, CFRE is Director of Gift Planning at CEDARS. We recently sat down with her to learn more about her:
CEDARS: Where did you grow up?
Kristine Morton: Farnam, Nebraska, Population 279. I had 8 people in my graduating class.
CEDARS: What was your family like?
KM: My parents and one sister, Shelly who is 2 ½ years younger than me.
CEDARS: What is your favorite childhood memory?
KM: My Dad took me out to the barn when I was 4 to introduce me to my new pony. He was short and very chubby. I wanted to name him "Lightning" but we settled on "Spot" as he did nothing fast.
CEDARS: How long have you worked at CEDARS?
KM: I have worked at CEDARS for 21 years. My first position was at Youth Service System where I served as the entire staff of the Foundation/Fundraising Department. When YSS merged with CEDARS, I became a part of a team instead of being on my own.
CEDARS: Why did you apply at CEDARS?
KM: I worked with Jim Blue, CEDARS President and CEO, when we were both at Catholic Social Services . CSS was my first "real" job right out of college and I did Pregnancy Counseling/Adoption Services. I enjoyed working with Jim and was pleased when a position opened at YSS that seemed to fit my strengths.
CEDARS: What do you currently do at CEDARS?
KM: My title is Director of Gift Planning. I have the honor of working with individuals who share CEDARS passion for making the world a better place for children. My job is to help donors find meaningful ways to impact the lives of children through their financial support of our work.
CEDARS: What is your favorite part about your job?
KM: Definitely my favorite part of my job is the people that I meet. Most donors I meet have truly figured out what is important in life. They know that gratitude and happiness go hand in hand with generosity. They inspire me to continue to strive to be a better person.
CEDARS: What do you like to do when you're not at work?
KM: I like to spend time with my family. My husband, my daughter and my son enjoy spending time together. This past summer we joined some other family members and kayaked down the Calamus River. I also love spending time with my little white dog, Chopper, a Westie.
CEDARS: Do you have a 'CEDARS moment'?
KM: I have many CEDARS moments! One of my favorites was when we were organizing auction items for the Power of the Purse at our now retired Executive Vice President, Kathy Campbell's home and her cat stealthily attacked me while I sat on the floor surrounded by handbags. The other was when a mouse ran into my office. Both instances involved Meagan Liesveld, Director of Development, and I screaming really loudly while laughing hysterically at the same time.
CEDARS: Is there one particular client that you feel was significantly impacted at CEDARS? If so, what was their story?
KM: It has been really rewarding for me to be involved with CEDARS Scholarship program. During the application process, the kids share their stories and I am always so inspired by the challenges that they have faced down and overcome. One young man in particular had been involved in several of our programs as a teenager. He came to shelter when his dad committed suicide. After that, he lived in a variety of group homes and in foster homes. He spent a lot of time being truant and in trouble. Upon graduation from high school, he studied to become a welder. Last I heard, he owns his own business in Colorado. What impresses me most is that no matter how many times life knocked him down, he got up again and went forward. I admire that so very much. He described CEDARS in his scholarship application as being one of the few things he could always count upon. That is powerful stuff.
Thank you, Kristine!
Interested in Planned Giving or have your own question for Kristine? She'd love to hear from you.