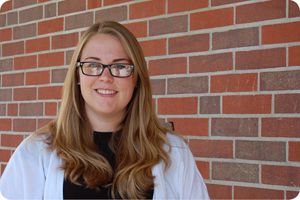 Healthy Families America (HFA), a joint venture between CEDARS and the Lincoln/Lancaster County Health Department, seeks to prevent children from being abused or neglected in their most formative years by teaching parents about normal child development and helping to reduce stress within the home. Home visitors meet weekly with families to address problems as well as to set and help achieve goals.
As the Program Manager for HFA, Kristina Hagan is extremely knowledgeable on the topic of Child Abuse Prevention. We asked her a few questions to get to know her better and understand what it takes to prevent child abuse.
CEDARS: Where did you grow up? What was it like?
Kristina Hagan: I grew up in Hay Springs, Nebraska. It's a small town in the panhandle with a population of around 600. It was a great place to grow up where everyone knew everyone else.
CEDARS: What is your favorite childhood memory?
KH: My mom and dad would take my sisters and me on "day trips". We would go to different landmarks in Nebraska and South Dakota, have picnics, and spend the day together.
CEDARS: How long have you worked at CEDARS?
KH: I will have been at CEDARS for two years in May. After I graduated from college, I did some searching and found CEDARS. After interviewing, I knew that CEDARS would be a great fit for me and was fortunate enough to get the job. I began at CEDARS as a Family Partner in Partners in Permanency using Wraparound to support families. I moved to the Program Manager of Partners in Permanency and Healthy Families America at the end of 2014.
Currently, I'm the Program Manager for Partners in Permanency and Healthy Families America. I also carry a partial caseload for Healthy Families America as well as Community Response. Community Response is a new program aimed at helping families in a particular zip code from which we see a high number of families entering the Child Protective Services system. Our work in that program is to lower that number.
CEDARS: What is your favorite part about your job?
KH: My favorite part of my job is when I have the opportunity to witness a family I work with reach the goals they've set for themselves. I have been able to see families find hope and success and gain confidence. Getting to be a part of that is a great feeling.
CEDARS: Is there one particular client that you feel was significantly impacted at CEDARS? If so, what was their story?
KH: One of the greatest successes I have been able to see was that of one family that was able to utilize CEDARS through different programs to gain success. One of the children was in the CEDARS Shelter and then utilized in-home support services through the Shelter before transitioning to Partners in Permanency. With the help of all of these programs, this family has stayed together, all children are excelling in school, their parent is in a successful career, all family members are getting their mental health needs met, and this family has increased their family supports.
CEDARS: What do you like to do when you're not at work?
KH: I love doing home Do-It-Yourself projects, reading and spending time with my family.
CEDARS: What is something we all should know about Child Abuse Prevention?
KH: Child Abuse Prevention is a community effort. In my opinion, families who are able to access services that are affordable and meet their needs have a better chance of eliminating some of the stresses and situations that can lead to child abuse. In our community, we have wonderful resources, but occasionally those resources are difficult to access or have requirements that families don't meet. Meeting families where they are and supporting them when they reach out for help is something that we can all support.