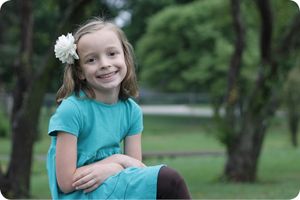 Every day of every month we are working to prevent child abuse. During National Child Abuse Prevention Month we'd like to take a closer look at some of our prevention services.
At CEDARS we know that often families can be made stronger with the right resources and support. Under-resourced families are more likely to experience the trauma of abuse or neglect than those whose needs are met. Last year, CEDARS provided prevention services to 547 children and their families. These prevention services came through multiple CEDARS programs, including Healthy Families America, Partners in Permanency, Sixpence, Family Support Services and Visitation. These programs all focus on keeping children safe as their top priority, while at the same time, helping to educate parents on healthy behaviors and community resources.
Sometimes it is necessary to remove a child from danger immediately and work toward reunifying the family if possible. Recently, a young girl, Jessie, came into our care that way.
Jessie told us she remembered being afraid of her father from the time that she was really young. He struggled with alcoholism, and some of her earliest memories were of him drinking too much before exploding in rage against her mother. Jessie would comfort her younger sister, Kayla, during these times.
The abuse only increased when he lost his job two years ago. After that Jessie's family moved from hotel to hotel—staying in their car when they didn't have enough money to pay for a room. She would often wake up to the sound of her mother crying. The girls began missing school and falling behind in their coursework. Their school contacted CEDARS when they overheard troubling stories from Jessie and her sister, and the girls came to stay at CEDARS Emergency Shelter.
CEDARS was able to keep the sisters safely together until Jessie's mother was able to seek help from a local domestic violence shelter and before leaving her husband. The girls returned to their mother's care and now finally feel the comfort of being in a home free from violence.