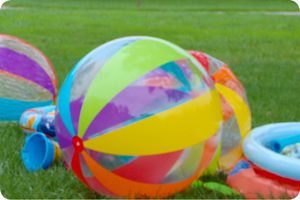 Summer is almost here! We've been waiting patiently to make more sidewalk chalk since bringing our sweaters out of storage. Our calendars are booked solid with farmers' markets, bike rides, campouts, and grilling. But of course, summer must be savored. It must be enjoyed slowly and mindfully. To do that, we're offering up a handful of tips that make our summers run just a tad smoother. Enjoy!
1. To avoid popsicle drips slip a cupcake liner around the base of a popsicle. Kids' hands and clothes will stay surprisingly clean!
2. Fan of reusable water bottles? Remove that soapy taste from over-washing by soaking them in a solution of water plus vinegar or baking soda.
3. Extra pool noodles around? Use them to stop kids from rolling off the bed. Place the noodles under the fitted sheet along the open edge of a mattress.
4. Budding arborist in the house? Use leftover egg cartons or even cardboard tubes as seed starters. Watch the seeds germinate on a windowsill. Then, transplant them in your garden.
5. Love your java? So does your tomato plant! Used coffee grounds make a great fertilizer as they are rich in nitrogen. FYI, Coffee grounds will, however, change the color of your hydrangeas.
6. Tomatoes also love calcium. Try adding an antacid tablet to the soil when you plant.
7. Speaking of gardening…don't let that leftover bunch of herbs end up in the trash. Instead, chop and freeze in an ice cube tray with water, stock or olive oil for quick, ready-to-go seasonings during the winter months. One of our favorite uses is roasted cauliflower tossed with one cube of basil and parmesan cheese. Actually, we might have to make that tonight!
Want more ideas for a great summer? Check us out on Pinterest. We've loaded our boards with delicious recipes, fun activities, and maybe even some inspirational quotes for encouragement.