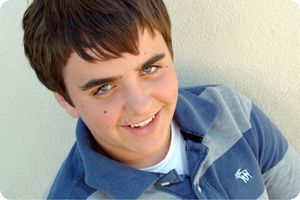 May is National Foster Care Month and we'd like to tell you about a young man named Bailey who lives in a CEDARS-supported foster home.
Bailey is a 15-year-old and loves to talk. He'll tell you about how to beat his favorite video games, what toppings he loves on his pizza and even what shoes he's wanting from the store. What he doesn't much talk about is his childhood. Bailey grew up in conditions of extreme abuse and neglect. At one point, doctors weren't sure he would live.
He came to CEDARS a year ago, and we set to work immediately to give him safety and stability in a loving foster home. Because of his traumatic upbringing, Bailey had developed the use of certain behaviors which found him in trouble with the law. His new foster parents tried to help him correct his behaviors, but Bailey wouldn't listen.
Bailey called Pete, a CEDARS team member, in the middle of the night. Pete listened. Pete also listened to Bailey's foster parents, who were committed to making this family work.
The following week, Bailey went to the Johnson's home for a weekend of respite. This allowed Bailey and his foster parents a weekend apart to sort out their feelings. Bailey spent the weekend playing video games with the Johnson's 16-year-old son, Mark. At the end of the weekend, Bailey refused to leave.
"I found my real family," he said.
Although disappointed that Bailey would be leaving their home, his foster parents could see how having someone his own age helped him feel comfortable and gave him someone to talk to. They agreed that Bailey should be with the Johnsons. The Johnsons, although surprised by Bailey's quick attachment to them, agreed to welcome Bailey into their home. CEDARS was able to wraparound services to the entire family to ensure that all involved were supported.
Today, Bailey and his foster brother Mark are preparing for a trip to South America later this summer. They will spend two weeks in Ecuador teaching English.
Your support makes our work possible!
Read about another CEDARS family on the National Foster Care Month official site!