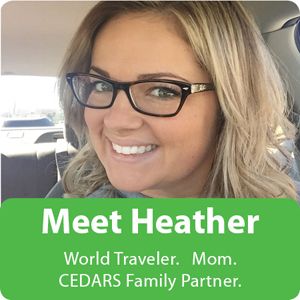 At CEDARS we believe that offering support to families at-risk of experiencing abuse and neglect is the best way to prevent these traumas in the lives of vulnerable children. For new and expectant parents, a lack of resources such as the support of family or the knowledge of what to expect as a new parent can create such an environment. That's where one of our Family Partners, like Heather, steps in to offer support, address immediate concerns, and connect the family with community supports and resources.
We've known Heather for quite a while, but wanted you to get to know her too!
CEDARS: Hi, Heather!
Heather: Hi!
CEDARS: Thanks for taking the time to talk to us.
Heather: Of course.
CEDARS: Can you tell us a little about yourself? Where did you grow up?
Heather: I was born in the Philippines. My dad was in the Air Force and stationed at Clark Air Base. But we only lived there about 18 months. Then we moved to Virginia while my dad was stationed at the Pentagon. After that we lived in Provo, Utah. I loved being there and miss the mountains, but I am able to go back to visit pretty often, which is awesome! From 12-years-old on I have been a true Nebraska girl, and I definitely consider Nebraska to be my home. Go Huskers!
CEDARS: That's a really unique childhood, Heather! Do you have a favorite childhood memory?
Heather: When I was 10 my grandparents had the whole family—their 4 children and spouses and us 12 grandkids—to their home in California so that we could bury a time capsule in their yard. We put our handprints in cement marking the spot of the capsule. It was truly special to be able to spend so much time together and learn a lot about each other. It is the last time I remember the family being all together before my grandfather passed away.
CEDARS: That's really special. I know you've worked for CEDARS quite a while. Can you tell us how you got involved?
Heather: My involvement at CEDARS has been ongoing since I was a young teenager. My parents were licensed foster parents through CEDARS. My mom also worked on the Foster Care Team when it was MUCH smaller than it is now. I think it was just three of them!
In college I worked at CEDARS Northbridge Early Childhood Development Center for a few years—in the infant and toddler classrooms mostly—as well as picking up evening and night shifts at CEDARS Emergency Shelter and Group Homes.
I have now been back working at CEDARS for almost 2 years and have spent this time in the Sixpence program!
CEDARS: What's Sixpence?
Heather: We are a team of two, but we have great reach. I do weekly home visitation with pregnant and parenting teenagers, providing education on pregnancy, childbirth, and child development, as well as assisting with locating and utilizing community resources.
CEDARS: What is your favorite part about your job?
Heather: My clients. I have been working with some of my clients for over 18 months now. Seeing them go from pregnant to caring for an infant to living the "toddler life" is really fun! My coworkers are pretty fab too, though. They know how to make me smile on the tough days!
CEDARS: What do you like to do when you're not at work?
Heather: When I'm not at work I am with my daughters, Hayden (6) and Bryar (5). We love taking our dog Luna for walks around Holmes Lake (when they aren't busy doing Tae Kwon Do, Cheer, Tumbling, or whatever their newest favorite activity is).
CEDARS: Do you have a 'CEDARS moment'?
Heather: When I get to see my clients have awesome parenting moments with their kids. When I encourage them in some way, and then I come back and that idea has been utilized and the parent feels like it helped them and their child, that is when I know I'm doing what I'm supposed to be doing.
CEDARS: Is there one particular client that you feel has been significantly impacted at CEDARS?
Heather: I have a client that I have been working with for about 15 months now. She sought out my services on her own and has been actively involved ever since my first contact with her. She was looking for parenting support and more information on how to help her child learn. She always listens and actively participates in weekly meetings, comes to group activities, and takes any suggestions I make to heart and implements them before I even see her the next week. She was a great mom to begin with, but having a support system has really helped her to flourish. It has been awesome to watch her and her child grow together!
CEDARS: What is something you'd like everyone to know about the prevention work that you do?
Heather: Our team is small but mighty! We get to work with and provide services to clients who are voluntarily participating in our programs because they want to be great parents, they want to be successful, and they just need support to help them on that path. We get to be those support people—those teachers. How cool is that? We work to prevent issues before they start, and I don't think anyone could argue the benefits there!