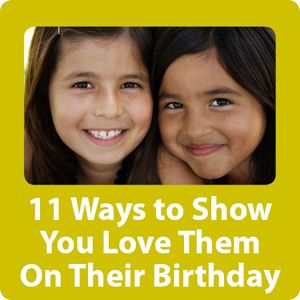 Children grow up so fast. Sometimes it seems as if they were born yesterday and tomorrow they will be leaving our nests. We want to make the most of the time we have with them (or for parents of tweens, the time they allow us to spend with them). Here we've collected our best ideas for ensuring they feel loved on their special days. Be sure to check out our article on helping them feel loved all the other days of the year.
1. Countdown to the Big Day. There is nothing like building up the excitement to make a child feel special. Start a week early and use a chalkboard, a paper chain, or even the bathroom mirror (see #2). Your child will enjoy changing the number and counting down to their big day.
2. Decorate the Bathroom Mirror. You can use window markers, lipstick, even regular washable markers to write a loving message on their big day. More than likely it will be one of the first things they see in the morning. Nothing beats telling them how much you love them first thing in the morning.
3. Decorate While They're Sleeping. Your child turns a whole year older overnight. Why can't the house turn into a party overnight too! Simple balloons and streamers go a long way to helping your child know how much you love them. For the brave parents out there, try decorating their bedroom while they're sleeping.
4. Use the Special Dishes. When your child sees that you're using the same dishes you set for company and for special occasions, they'll know how important they are. Even better, go to a paint-your-own pottery store and create a special plate just for their special days.
5. Birthday Breakfast. Get the whole family together, if your schedules permits, and use those special dishes.
6. Birthday Child Picks the Meal(s). As long as you're having a family breakfast, why not let the birthday child pick the menu. If you're eating again as a family for lunch or dinner, let them choose again!
7. Retell the Birth/Adoption Story. Kids love to hear about when they were younger and when they became a part of the family. Retelling the story can become something they look forward to and helps them know you loved them from the beginning and that you continue to love them.
8. Let Siblings Share Their Love. Help siblings understand that the important part of a person's birthday is telling them how much we love them. Give them encouragement to tell their favorite thing about the birthday child or why they're thankful to have them as a brother or sister.
9. Put Down Those Devices. Giving your child your attention will let them know that they are important. It's only one day a year. Candy Crush can wait.
10. Measure Them. Get out the pen and add another mark to the wall. Or trace their hands around previous years' and watch the tracings grow like tree rings.
11. Scavenger hunt. Kids love hunting for eggs at Easter. Why not for their birthday presents? Give them clues or help connect the hiding spots with streamers for an easier but festive hunt.
12. (Bonus!) Do Good. Tonight, close to 300 youth will be in CEDARS care away from their families due to situations of abuse, neglect and homelessness. It feels just as good to open gifts as it does to give back. Encourage your child to be generous and give back to the community. Take a look at our Wish List to see how you can help.