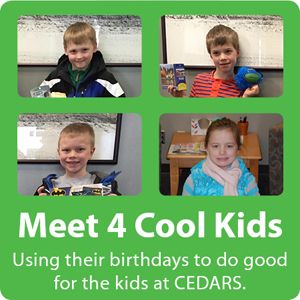 *This article first appeared in Little Voice, a publication of CEDARS Home for Children Foundation. If you didn't receive your free copy and would like to, sign up today.
Recently, some amazing kids from the community wanted to do some good on their birthday. They each decided that instead of presents for themselves, they would request gifts for the children in CEDARS care. Here's what happened:
• For his seventh birthday party, BRODY distributed a wish list based on our Wish List. He brought his brother to deliver the gifts. You're the best, Brody!
• SCARLETT hosted her birthday party in honor of CEDARS. She decided that she didn't need to get new things every year, so every other year she collects gifts for the children in CEDARS care. You're awesome, Scarlett!
• MAX AND THOMAS had joint birthday parties because a birthday is more fun with friends! Each of them elected to forgo presents and collect gifts for the kids in CEDARS care. You boys rock!
Want to join in with these awesome kids and use your next birthday to do good for the kids at CEDARS? Here are two ways:
1. Use our Wish List (updated as our needs change) to request gifts from your guests. (Hint: want a themed party? Our Wish List is divided into small sections such as Summer Needs, School Needs, and Baby Needs. Check out our Pinterest page for party ideas.)
2. Request your party guests to make a secure donation in your honor right here at www.cedarskids.org. Your guest will immediately receive a receipt for their tax deductible donation via email and you will receive a birthday card from us!