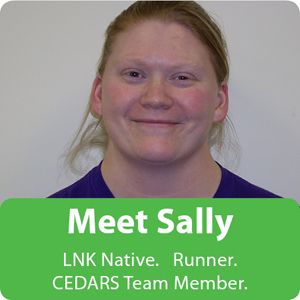 CEDARS: Where did you grow up? What was it like?
Sally: I have lived my whole life in Lincoln, Nebraska (minus the four years I spent in Wayne, Nebraska for college.)
CEDARS: What is your favorite childhood memory?
Sally: As a child I always enjoyed our visits to my grandparents' house and playing with all of my cousins.
CEDARS: How long have you worked at CEDARS?
Sally: I have been with CEDARS for over 13 years! For two years I worked with youth in CEDARS Emergency Shelter and then I transitioned into Carol Yoakum Early Childhood Development Center (CYECDC) where I work with infants. My day is spent changing diapers, feeding the kids, playing with them and putting them down for naps. And the cycle is repeated several times throughout the day.
CEDARS: What is your favorite part about what you do?
Sally: I enjoy helping the children learn and grow. It is fulfilling to watch them grow from infants to children ready for school. I also work with the greatest group of co-workers. They always support one another and have great teamwork.
CEDARS: What do you like to do outside of work?
Sally: I spend my time with my family and friends. I keep busy running my kids to and from sports throughout the week and my family likes to do "fun" 5K runs together. Our favorite has been the color foam run.
CEDARS: That sounds fun! Do you have a CEDARS moment?
Sally: One of my favorite CEDARS moments was several years ago. We had a family in need of a lot of things in the middle of winter. I was able to acquire items that had been donated and help them get everything they were in need of. The family was very thankful for our help.