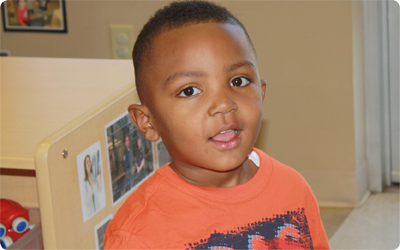 When the days grow cool and spiders start spinning their webs, the kids know that fall is here. For many children this is a time of excitement as they anticipate running to neighbors' doors to proclaim, "Trick or treat!" For children whose families are struggling, the season does not hold the same appeal.
They might wonder if their family will be able to afford enough food this week, let alone a costume or candy. They might wonder if they'll have a safe place to play or sleep. Their parents might have concerns about how to transport their child to and from school or daycare when two jobs are requiring their time elsewhere. They might wonder if they will be able to keep their children safe through the season.
One of the ways CEDARS supports struggling families is through our Family Resources and Education programs which focus on maintaining positive family and community connections. Services are provided through early childhood development centers, community learning centers and in family homes.
A few weeks ago at CEDARS Northbridge Early Childhood Development Center, while the kids were reading autumn-themed stories, Asher began "acting out" that is, he began using behaviors that were disruptive. His teacher, Edina, knew that often children use behaviors as a way to communicate that something is going on inside. She also knew that Asher's mom recently took Asher and left a bad situation. Though they are currently living safely with Asher's grandma, this type of extreme change can be traumatic for a child. Additionally, Asher's mom has just started a second job to make ends meet. Asher often doesn't get to see her before school and sometimes not before he goes to bed. His grandma drops him off and picks him up and makes his meals.
Edina redirected Asher's attention and allowed him room to calm down. When he was ready to talk, Asher told her that he misses his mommy.
Edina worked with others on the CEDARS team to ensure that Asher's mom and grandma were aware of all the community resources available to them for support.
Yesterday, when Edina asked her class to help decorate the classroom door for the annual Halloween door-decorating contest at the center, Asher bubbled with excitement. He told Edina and the rest of the class how his mom found him a costume for Halloween—not just any costume but his favorite superhero. Edina smiled, knowing that Asher's mom has been able to spend more time with her family recently due to the new supports in her life. She has even been able to pick Asher up from the center several times. On one of those occasions, she expressed to Edina that the family feels more connected and stronger. A parenting class from CEDARS has also helped her feel more connected with Asher and less stressed.
Edina reminded the class that the world can't have too many superheroes, because we are all superheroes. Asher smiled.
Would you like to be a superhero to a child in crisis? Your gift today will support children, like Asher, whose families are struggling.