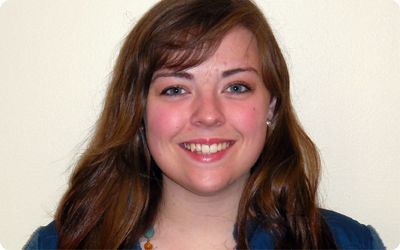 As part of the Street Outreach Services (SOS) team, Jennifer seeks out homeless and at-risk youth with no permanent, safe housing and offers them safe ways to leave the streets without pressure or judgment.
CEDARS: Jennifer, how long have you worked at CEDARS?
Jennifer: I joined CEDARS right out of college seven months ago.
CEDARS: What brought you to CEDARS?
Jennifer: During my last year in college, I interned with the Street Outreach Services team. I loved working with the kids and helping them in any way I could. I knew Street Outreach was something I would love doing full-time. As soon as I graduated, I applied for the position.
CEDARS: What is a typical day like for the SOS team?
Jennifer: Most of our day is spent on the phone or in the car. When we arrive, we generally don't know what our day has in store for us. The youth contact us at any time with requests for food, bus passes, hygiene kits, clothes and anything else they might need day to day. We then gather the supplies for the kids and meet them wherever they may be. Sometimes we aren't able to get the things they've requested, so we research other agencies and resources and help the youth access those community agencies. Each day is different. One day we may be delivering ten food boxes to ten different clients, while the next day we have one client in immediate crisis with whom we spend the entire day trying to find them somewhere to go and get them stable for the night.
CEDARS: What is your favorite part about your job?
Jennifer: My favorite part of my job is showing the youth that I care. So many of them work endlessly to improve their situations but see little in return. Just telling them that I'm proud of their efforts brightens their day remarkably. Sometimes we are the only support system these kids have.
CEDARS: What do you like to do when you're not at work?
Jennifer: My husband and I are huge movie buffs! We love taking advantage of Marcus Theaters $5 movie night. I am also crocheting and knitting every baby project under the sun for my first little niece who will be here in March!
CEDARS: Is there one particular client that you feel was significantly impacted at CEDARS? If so, what was their story?
Jennifer: For one youth we have been helping for about a year now, we are one of the few people he can count on in his life. This trust has been a long time coming, and while he is not ready to change his life right now, he knows he can come to us whenever he needs someone. When he's ready, we'll be there to help him get the assistance and support that he needs. He is extraordinarily talented and someday he is going to be an amazing man.