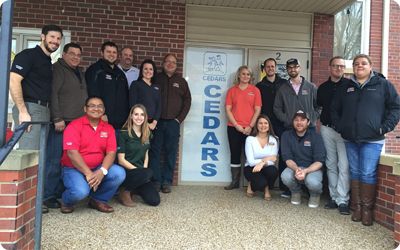 Raising Cane's holds to the motto, "One Love." One love for chicken fingers, sweet tea and helping the community.
This past holiday season, the local franchise owners asked us what they could do. They wanted to make a difference this holiday season. They wanted to give back to a community that has given them "one love" in return. And they knew they wanted the focus of their efforts to help kids.
We shared with them about our adopt-a-family program, in which community partners grant the wishes of the children and families we serve. Raising Cane's store managers and the Lincoln-based owners sat down together to discuss the stories of the families they could adopt through our program. They chose four for whom they felt they could provide the most difference. Then the Raising Cane's team went shopping for the five adults and thirteen children comprising the four families they adopted.
All the families helped through our adopt-a-family program are in dire need. Families like the four helped by Raising Canes face extreme poverty and uncertainty about their futures.
For one of the families adopted by the Raising Cane's team, this was the first opportunity they had in months to feel normal as a family. There is an illness in the family which put strain on all. But for the holidays, they were able to be together for an entire day and enjoy each other's company. Each of the children was able to be a kid.
It was truly remarkable that this company was willing to take that many people away from their stores and pay them to go shopping for our families.
That sounds like one love to us.