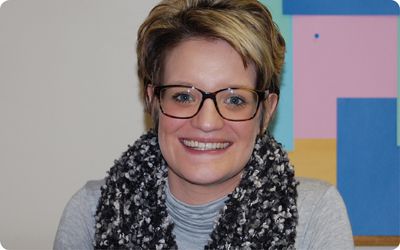 April is National Child Abuse Prevention Month. CEDARS works every day of every month to prevent child abuse. One of the ways we do this is by identifying families at risk of adverse experiences in the home and walking alongside them to put supports in place so that the children can have a healthy, safe childhood. Emily is one of our team members who does just that.
CEDARS: Hi, Emily. Where did you grow up? What was it like?
Emily: I grew up in Alliance, Nebraska. It is in the Panhandle; about 9,000 people live there. It was a great town to grow up in! Everyone knows everybody and it is a pretty tight-knit community. I had friends that lived in town and in the country so being able to go horseback riding and be on the ranch was always a fun weekend activity. My mom's whole side of the family lives there too so cousin and family time was always fun.
CEDARS: What is your favorite childhood memory?
Emily: My dad coached basketball for thirty-five years. I started going on the bus with him when I was about two-years-old and sat on the bench with him all throughout my childhood. I really felt like I was a part of the team every year! Having that bond with my dad was great.
CEDARS: Emily, tell us about your work at CEDARS.
Emily: Every day I visit with at least one family in need of support. We might meet at home or at school—sometimes at court. I adapt to my families' needs by researching resources for them, keeping in contact with them through email, phone and text, as well as keeping up my case notes and files.
CEDARS: What is your favorite part about your job?
Emily: My favorite part is building relationships with the families I serve—parents and children alike.
CEDARS: What do you like to do when you're not at work?
Emily: I love to relax! Netflix is a good friend of mine. I also love to cook and try new recipes, be with friends and work out.
CEDARS: Do you have a 'CEDARS moment'?
Emily: Being able to help a family, whether that be big or small is an accomplishment and moment in itself for me! I call them 'little celebrations' with the families I serve.
CEDARS: Is there one particular client that you feel was significantly impacted at CEDARS?
Emily: Yes. I first started working with a family when they were homeless. The mother had escaped a situation of domestic violence, had no job and had her three-year-old son to take care of. We were able to find a great daycare to keep her son safe during the day, get her into supportive housing that was fully furnished, and had a great option to help with rent and find transportation. She is now employed and doing well for herself, getting better every day, thanks to the supports that have wrapped around her.