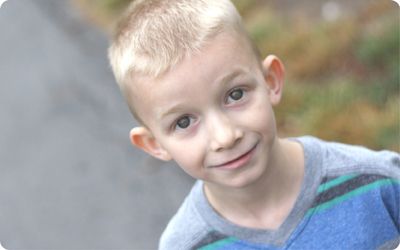 We wanted to make sure you heard about Scotty.
Scotty is a seven-year-old who is good at math but prefers recess. Playing chase is his favorite. His face lights up when he's on the playground.
Scotty came to CEDARS because his mom, Janine, was struggling to provide a stable environment for him at home. She loved Scotty very much but did not have access to the necessary resources to keep herself and her son safe. She had not grown up in an environment in which good parenting was modeled for her. Bad habits were reinforced by years of unstable and overwhelming situations.
We were able to place Scotty in a loving foster family. He was scared at first, as any child might be to leave the only home he had ever known. He had never been around a dog before but soon discovered that Lady, his foster family's puppy, liked to play chase in the backyard. Lady even liked to sit with him while he practiced reading.
While Scotty was safe with Lady in his loving foster family, we came alongside his mom, Janine, to help her find and utilize resources in the community so she could prepare to have Scotty come back home. We used this opportunity to help Janine build the parenting tools she needed to bring stability into Scotty's world.
While they were living apart, we were able to facilitate visits for her and Scotty. Scotty told his mom about school and about Lady. Janine told Scotty about her new job. Scotty read out loud from a book and Janine told him how proud she was of him. As visits became more frequent, we were able to help Janine learn the value of making healthy meals and the two ate several meals as a family. When it was appropriate, we arranged for Scotty to spend several visits overnight with his mom so that the two could practice a good bedtime routine.
Early last month, Scotty returned into Janine's care permanently. We'll continue to check in on them and offer support, but we are confident that Scotty is surrounded with the safety and stability necessary for a successful future.
If you are interested in becoming a foster parent, you can email Adrianne or call her at 402-437-8959.