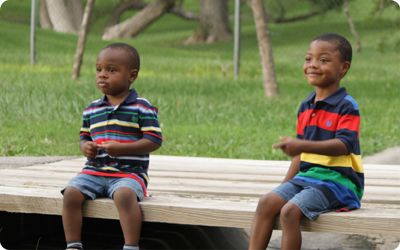 When little Cameron and McIntyre came into our care, they were overwhelmed by the fact that they each got to sleep in their own bed. You see, their mother, Shayna, had recently taken them and escaped a very bad living situation. She secured a short-term stay with a friend who had only a couch and a floor to offer.
Shayna obtained a fulltime job, but before she was able to put aside enough for a down payment on a place of her own, their temporary living situation was disrupted and Shayna had nowhere to turn with her two young boys.
We were able to step up and take the boys into our care for a short period of time, keeping them safe while their mom worked to find secure housing.
We connected Shayna with a number of resources, and community partners to help expedite finding a home for the family. We also worked to help her develop some consistent parenting techniques that she had not had the opportunity to witness as a child herself.
Cameron and McIntyre are both very smart boys. One of the things they liked to do with our staff after visits with their mom was build towers with an interlocking construction toy. They had competitions to see who could build the tallest tower that didn't fall over.
When the time came for the boys to move into a new home with their mother, we arranged with Slumberland, a local furniture store, to have two new beds for the boys gifted to the family. The manager of the store was delighted to be able to deliver the beds when we told him that this was the final step before the boys could return home.
Because of the generous support we received from the community, we were able to keep Cameron and McIntyre safe while apart from their mom and speed their return home.