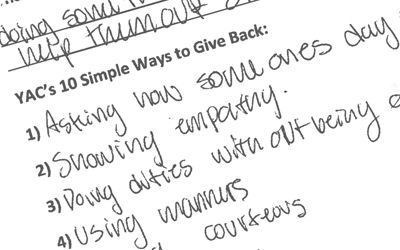 The CEDARS Youth Action Committee (YAC) allows youth in our care the opportunity to grow as leaders, gives them a voice, affords them opportunities through a variety of small groups to try and learn new activities and celebrates successes through the coordination of several events throughout the year.
The smallest good deed can ignite change and positively impact the community by providing a renewed sense of hope.
YAC's definition of giving back is "helping out without expecting anything back."
YAC's ten simple ways to give back:
1. Asking how someone's day is going
2. Showing empathy
3. Doing duties without being asked
4. Using manners
5. Being courteous
6. Volunteering
7. Giving compliments
8. Being positive
9. Going above and beyond
10. Being a good friend
How do you give back? Tell us on social media by tagging CEDARS (@cedarskids).