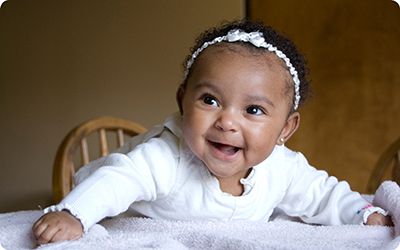 We are honored to have celebrated with 6 families on Adoption Day last week. Daily, your support allows our team to walk alongside of over 200 children and youth living safely in loving foster families.
Our hope for each of these children is the stability that comes from enduring family relationships. Sometimes this comes in the form of an adoptive family. When that happens we couldn't be happier for the strong and permanent bonds being formed. We'd like to tell you about one of the children adopted in a beautiful ceremony at the courthouse. Her name is Dakota.
Dakota came to us when she was one-year-old. We immediately identified a loving foster family for her that would provide a supportive environment where she could begin to build a trusting relationship with her foster parents.
Jill and Rick, Dakota's foster parents, loved having a baby in the house. They weren't even bothered by getting up in the middle of the night or by changing diapers. Their hearts were open. They wanted Dakota to be a permanent part of their lives, but they knew that most often foster care is a temporary situation until a more permanent solution can be found. This didn't stop them from giving Dakota all the love they had.
Jill and Rick worked with the CEDARS team to arrange visits with Dakota's biological family so that Dakota could still be connected to those who loved her and could provide her with important facets of her cultural heritage which was different from Jill and Rick's.
In time it became clear that although Dakota was loved by her biological family, returning to live with them permanently was not going to be possible. Dakota's biological family, together with Rick, Jill and the CEDARS team wanted what was best for Dakota. After much discussion and contemplation, it was decided that Jill and Rick would adopt Dakota.
During the ceremony at the courthouse, Jill and Rick along with Megan, their CEDARS Family Resource Partner, told the judge how Dakota would be cared for and loved and how Dakota would still be connected to her biological family through visits. The judge granted the adoption and many new family photos were taken!
Dakota told us that she was excited to go to school next week and tell all of her friends about her "forever family."
We'll continue to support Dakota and Jill and Rick to make sure they are doing well in their new life together. Join us in wishing congratulations to all the families celebrating adoptions recently and experiencing the holidays for the first time as "forever families."