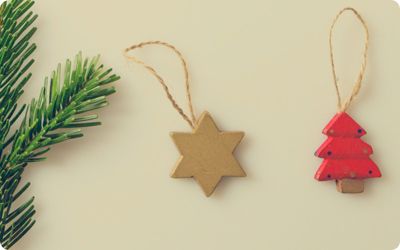 The Holidays can be a hectic time as we dash from school concerts to neighborhood get-togethers, but this is also the time when many memories are made—especially for children. What better time than to enjoy an afternoon or evening making decorations—and memories—with your loved ones. They will cherish this time together and have a memento by which to remember the time together.
These crafts can be hung on a tree, a garland, over the mantle or any place of honor where you and your child can see them through the holiday season.
Melted Bead Ornaments
1. Preheat the oven to 450 degrees Fahrenheit. This is hot! Adult supervision required!
2. Line a baking sheet with parchment paper.
3. Arrange ordinary plastic beads inside metal cookie cutters on the baking sheet. We recommend such shapes as snowmen, mittens and stars.
4. Bake for 15 minutes. Immediately poke with a skewer when you remove the tray from the oven to create a hole for a hook or thread.
5. Let decorations cool before removing from cookie cutters and parchment.
Salt Dough Ornaments
1. Mix 1 cup flour with 1 cup salt, then slowly add 1/2 cup warm water, until a dough forms. If you need to, add more water a little at a time and slowly.
2. Roll out dough until a 1/4 - 1/8 inch thick.
3. Cut shapes from dough using cookie cutters. We recommend shapes such as winter animals, candy canes and snowflakes. Stamps can be used to add texture, too.
4. Bake at 325 degrees for one hour.
5. Get Creative. There are many ways to decorate these Salt Dough Ornaments.
They can be painted with acrylic paint. For best results, apply several coats of non-toxic varnish over the top.
Alternatively, gel color and glitter can be kneaded into the dough before baking. The color can dull slightly once baked, but varnish can perk it up and help it to last longer too.
Another option is to color the cookies with wax crayons while they are still warm from the oven. This will give them a glossy look. These can be coated with varnish as well.
Popsicle stick decorations
This is our simplest offering; an old standby, popsicle stick snowflakes and stars can be used to magical effect. Hang these from a light fixture, or string them together to make a garland.
For a Snowflake: Use three sticks, crossing them at their centers like an asterisk. Add a dab of glue between each stick and press firmly. Let dry.
For a Five-Pointed Star: Use five sticks, arrange the first two in the shape of an upside-down 'V.' Add a dab of glue where they connect. Add two more sticks, connecting them from the end points of the 'V' and crossing them to make an 'X.' Add a dab of glue to the points where the 'X' connects to the 'V.' Add the last stick to connect to remaining loose ends. Add a dab of glue to all connection points. Let dry.
For a Six-Pointed Star: Use six sticks. Start by making two triangles, in which the ends of three sticks connect. Add a dab of glue to each corner and let dry. When dry, place one triangle on top of the other, pointed in the opposite direction. Add a dab of glue to all connection points. Let dry.
Now it's time to get creative. Whether you made a snowflake, five-pointed star, or six-pointed star or all three, you can paint them, color them with markers, add glitter, stickers, plastic gems, you name it. Or, keep it simple. However you decorate your creations, you'll enjoy the time you spend together as a family.