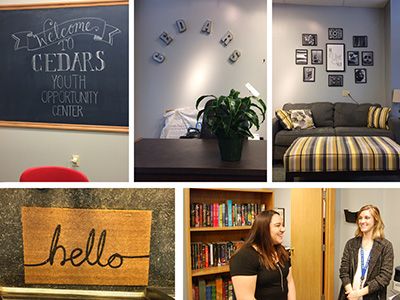 Michaela Young, CEDARS Service Director for Out of Home Services, said that one of the challenges the CEDARS Street Outreach Services (SOS) team has faced in the past is the difficulty of assessing a youth's needs when standing in the elements while simultaneously delivering basic supplies to help them survive, such as food boxes, clothing, hygiene kits and transportation.
One of the most requested resources from youth and staff alike was a central location where youth could "drop-in," get out of the cold, get a warm meal and safely spend part of their day.
Located strategically in downtown Lincoln, CEDARS new drop-in center will allow youth to do laundry, apply for jobs and follow hygiene routines to both look and feel clean. Other amenities of the Center include couches, hot meals, group meetings, and access to computers.
After renovations are completed on the Drop-In Center, artwork made by youth in CEDARS care will be hung prominently on the walls.
For some youth, the only meals they get are in school if they are able to attend. That is why at the Center, hot meals will be served not only during the week but also on weekends. Youth have told our staff they have difficulty finding weekend meals on their own. These meals will become especially important to youth during the summer months when meals at school aren't accessible.
The Center is a sister program to the already robust Emergency Shelter offered by CEDARS. The two programs will collaborate to ensure that youth have access to emergency shelter 24 hours a day. This collaboration is important as about 46 percent of runaway, homeless or street youth who stay at our Emergency Shelter have had previous contact with our Street Outreach Services. The Center is a judgment free zone where we can build relationships with youth in crisis as we offer them safe ways to leave the streets.
We project that through the Center and our current efforts, we will connect with 750 youth in crisis over this next year.
If you are able, please join us for an open house to see the new Drop-In Center at 318 S. 13th St., Lincoln Nebraska, on January 25th, 2-6 P.M.