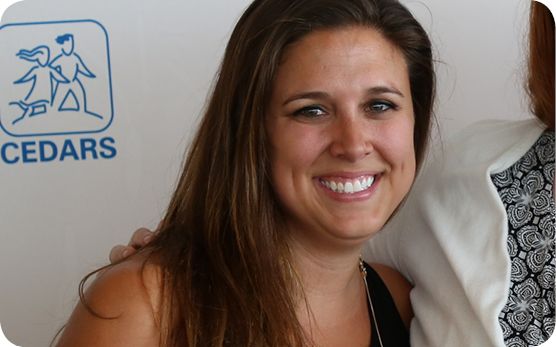 Jenna is a CEDARS Family Resource Partner serving families through our Pioneers Center, the only Emergency Shelter for unaccompanied youth in Southeast Nebraska.
CEDARS: Hi Jenna!
Jenna: Hi!
CEDARS: Tell us a little bit about yourself.
Jenna: I am the youngest of four. Growing up there was never a dull moment in our household. You could always find me outside barefoot running around with the neighborhood kids until dark. My favorite memory would have to be when I was in high school, and we won State Cross Country back to back. Now, when I am not in the office I spend a lot of time with my family. I am really lucky that my parents live down the road from me. Thursday nights are dinner nights with my younger brother and my parents! I have four nephews and three nieces so I spend a lot of my time attending their activities.
CEDARS: What is your typical day like at CEDARS?
Jenna: My day is really different every day. Some days I could be sending the kids off to school or saying goodnight to them at the end of the day. Typically I meet with the families that I am supporting after school or in the evening. We work on concerns that the youth or the family have identified as obstacles to living together safely in their home. If I am not on visits you can see me at the Pioneers Center with the youth in my office chatting away.
CEDARS: How long have you worked at CEDARS?
Jenna: I started interning at CEDARS when I was still in college and then continued to work here afterwards for a year. I relocated and left my CEDARS family but returned and have been with them for a year and a half now.
CEDARS: What keeps you coming to work each day?
Jenna: The youth are really fun to be around. They make it entertaining every day! It is like having 16 kids of my own.
CEDARS: What is your favorite part about your job?
Jenna: The best thing about my job is seeing how youth progress. When they first come to us, they often think that they have no hope; and through the course of working with them I get to watch them as they succeed. That is so rewarding!
CEDARS: Can you tell us about a time when you feel a youth was significantly impacted at CEDARS?
Jenna: A little while ago, I was supporting a youth who was struggling at home. As happens often with teens, he struggled to communicate his thoughts and feelings to his parents, which led into a lot of arguments. He was getting so frustrated that this was spilling over into other areas of his life. We welcomed him into our Pioneers Center Emergency Shelter for a short time to give the family some time apart and to work on the issues they felt were eroding their relationship. As we got to know him, we saw that he was an amazing youth who had a great sense of humor. We helped him return home, and put concrete supports in place for the entire family. He was on medication and going to therapy at the time but when our services ended, he was off his medication and not needing therapy. He participated in anger management with us, which helped him learn how to control his anger when he was communicating with his parents. He also got a job and started his first year of college courses. His mother wrote me a letter later and said how lucky she was to have CEDARS come into her life. She learned more about her son and herself during the time he was with us than all of the years of therapy that they had.
CEDARS: What would you say to someone considering going into the type of work you do?
Jenna: It's a blast! I honestly learn something new every day. We do have struggles, but it is my job to show the youth that not everything is going to be perfect. We are going to have bumps along the way, but if we make strides to improve, whatever it may be, then we have no reason not to succeed. LOVE AND SUPPORT is what these youth need.