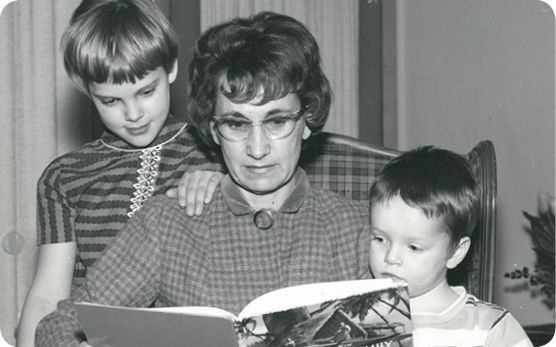 In 1949, Alberta Kuklish sold her home in Ord, Nebraska, and moved to Lincoln. Her husband had recently died, and she was looking for work. Friends mentioned that jobs were more abundant in Lincoln than in Ord, and there would be more opportunities for her young son Gordon, who had just turned six.
"Right then," Alberta said, "it was a job that I needed desperately. I had to have work where I could have Gordon with me which meant that job opportunities were limited."
Alberta couldn't believe her eyes when she found an advertisement in the paper for a housemother for twelve small boys at the CEDARS home. Alberta applied and was offered the position helping the Reverend and Alberta Danner at the home. Her position came with room and board for her and Gordon plus $30 a month.
For more than three decades, thousands of boys and girls fondly called Alberta "Mom." Mom Kuklish made CEDARS a place where boys and girls could explore and grow in safety and with stability. Over the years, many letters arrived from grown children—children Mom Kuklish had helped to raise.
A young man wrote to Mom, "I doubt that you will remember my brother and sister and I, but we were with you five years. If it hadn't been for you and the others I don't know what would have happened to us. If I could I would give you all the money you need because if anyone deserved anything more it is you."
Mom responded to as many letters as she could.
"Mostly my job is to see that the kids are as happy as it is possible to be in a home where they must face a new situation. Of course, they need good food, clothes and pleasant surroundings. We see that they get that, but we know it's not enough. Children need to feel worthwhile, that they have friends and can be a friend." –from a letter by Alberta Kuklish circa 1965.
The CEDARS board of Trustees noted early on that a home for children could easily become an institution. They credited Mom Kuklish and her hard-working staff for the atmosphere of love and understanding where any child felt they could seek advice.
Mom Kuklish served the boys and girls of CEDARS from 1949 until her retirement in 1985. Even after she retired, she was still known as Mom to many children at CEDARS. When she died in 1992, her passing touched many hearts, including those she helped raise to be valuable, productive citizens and those friends and supporters with whom she had communicated for over 40 years, telling stories of the children at the home, their joys, their discoveries and their growing pains. She knew she could count on those who read her letters to have the caring hearts necessary to sustain the CEDARS legacy, to give vulnerable children the supports they needed to grow into healthy adults.
One person can make all the difference.