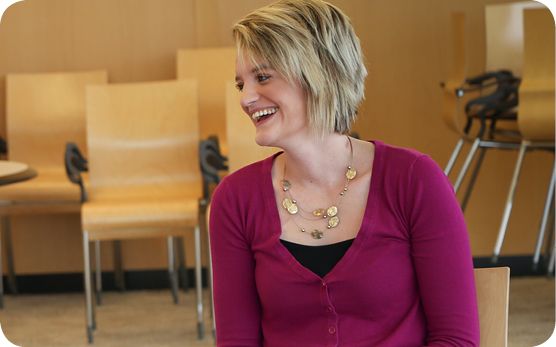 April is National Child Abuse Prevention Month. CEDARS works every day of every month to prevent child abuse. One of the ways we do this is by identifying families at risk of adverse experiences in the home and walking alongside them to put supports in place so that the children can have a healthy, safe childhood. Emily is one of our team members who does just that.
CEDARS: Hi, Emily. Where did you grow up? What was it like?
Emily: I grew up in Alliance, Nebraska. It is in the Panhandle; about 9,000 people live there. Typical small town, making your own fun type of community. It was a great town to grow up in! Everyone knows everybody and it is a pretty tight-knit community. I had friends that lived in town and in the country so being able to go horseback riding and be on the ranch was always a fun weekend activity. My mom's whole side of the family lives there too so cousin and family time was always fun.
CEDARS: What is your favorite childhood memory?
Emily: My dad coached basketball for thirty-five years. I started going on the bus with him when I was about two-years-old and sat on the bench with him all throughout my childhood. I really felt like I was a part of the team every year! Having that bond with my dad was great.
CEDARS: Emily, tell us about your work at CEDARS.
Emily: Every day I visit with at least one family in need of support. We might meet at home or at school—sometimes at court. I adapt to my families' needs by researching resources for them, keeping in contact with them through email, phone and text, as well as keeping up my case notes and files. The biggest thing we strive to do is get the family successful in goal setting and reaching those goals through community resources and trying new things at home.
CEDARS: What keeps you coming to work each day?
Emily: Every day brings the opportunity to make an impact for a family. I want to show them that they are worth it and that they can do this. My favorite part is building relationships with the families I serve—parents and children alike. Being able to help a family, whether that be big or small is an accomplishment and moment in itself for me! I call them 'little celebrations' with the families I serve. Whether that be a kiddo going to school every day out of the week, a parent finding a job, a kiddo diminishing aggressive behavior or a family moving into a new home… the list goes on and on!
CEDARS: Is there one particular client that you feel was significantly impacted at CEDARS?
Emily: Yes! I currently work with a single mother of two children, ages 2 and 4 and is about to have twins! We have helped her get access to laundry vouchers, gas cards, food, household items and everything in between. Thanks to the supports that have wrapped around her, the stability in her life is increasing. This has allowed her to be able to start making plans for when the twins arrive.
CEDARS: What is something we should all know about Child Abuse Prevention?
Emily: Supporting families, no matter where they are in life is crucial. When a family knows that they are supported, they begin to believe that they matter and want to work towards their goals. All families have strengths, it is just a matter of showing them a different way of thinking and doing things at times for them to truly see that. Wrapping services and support around a family is so important and showing them that when Protective Factors are present, health and well-being for all is increased dramatically. It all starts with a simple conversation and 'Pep Talk!' Together we can impact and change lives! It's all about teamwork making the dream work.