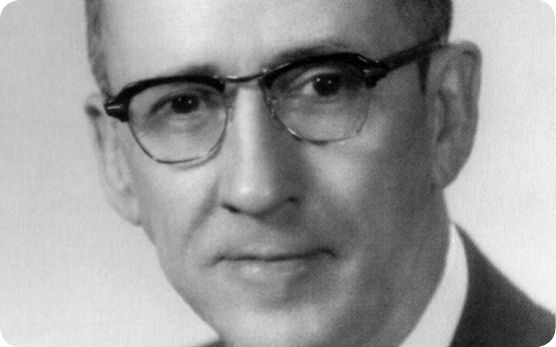 In the seventy years that CEDARS has been helping kids in crisis and building strong families, numerous individuals have made an impact on the lives of children in our care. One of those individuals is Asa Waters.
Not only was Asa one of the founding members of the CEDARS organization, but he served as Executive Director of the Home for thirty-eight years, from its founding until his retirement at age 85. He and his wife Mabel generously offered their basement as a space for administrative offices.
Fellow CEDARS founder and longtime supporter, Ray Becker said that Asa and CEDARS "Mom," Alberta Kuklish, "were a perfect pair. You could never find two people who could work together like they did. They could always see ahead to what was best for an individual child or for the home as a whole. I never knew them to disagree." In Asa's files he kept a list called 'The Art of Getting Along' which included such advice as, "no man ever got to first base alone, it is only through cooperative effort that we move on to better things" and "he learns to sympathize with the youngster because he remembers how bewildered he was when he first started out."
Asa started The Little Voice, a twice-yearly publication from CEDARS, and edited it until his retirement. (If you are not receiving The Little Voice in the mail, sign up here!) He also founded the annual Honorary Trustees Dinner in 1971. His wife Mabel said, "He told me he wanted to have a dinner, and I said; 'Asa, no one will want to come in the summer.' Well, that just shows how wrong I was! Over 600 people attended that first dinner!" Mabel and Asa carried their love of CEDARS and children even further. In the 1950s, a young girl, one of CEDARS children, came to live with them. Mabel and Asa raised Joanie into a lovely young woman.