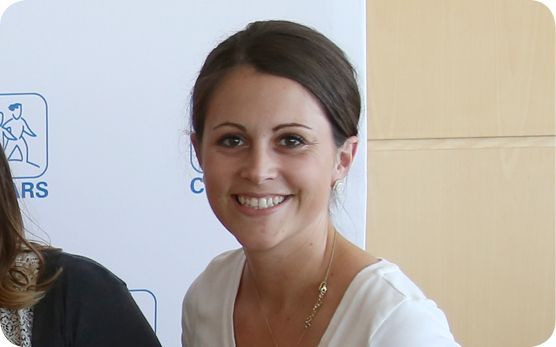 Katie is the Assistant Program Manager of our Clinton and Hartley Community Learning Centers which provide before and after school care and enrichment activities for elementary students while their parents work or go to school. During the summer the programs provide all-day care with activities and fieldtrips.
CEDARS: Hi Katie! Tell us a little about yourself!
Katie: I grew up in West Point, Nebraska. It was fun going to a small school where I knew everyone in my grade. While growing up I spent a lot of time playing with my friends, and playing sports. I spent most of my summers at the pool! One of my favorite memories is going to Colorado. I have a lot of family there, so we would ski and enjoy family time.
CEDARS: How long have you worked at CEDARS?
Katie: I have worked at CEDARS for 2 years. I started as an intern, and then worked in Prevention services prior to working at the Community Learning Centers. I have always worked with kids, and being with the Clinton and Hartley Community Learning Centers has definitely been a great fit for me. I love going to both Clinton and Hartley each day to see the kids. I enjoy listening to them talk about their day or whatever is going on in their life. Sometimes the kids need a little "chatting" to if they are having a bad day, and I love being there for them.
CEDARS: What is your typical day like?
Katie: Each day I start at my office usually checking schedules for the week or looking at the upcoming lesson plans. In the afternoon I go to Clinton for an hour or so, and then end my day at Hartley. While at Clinton and Hartley I am checking kids in for club, and monitoring them while they have their snack. I sometimes sub for Club leaders when they are not around which is fun because I am around kids I may not see each day!
CEDARS: What is your favorite part about your job?
Katie: I love that I am able to be around the kids each day. I enjoy going to Clinton and Hartley every day and getting to know the kids in the program. They have such big hearts, and it is fun to hear some of their funny stories of their day. It's important to know that some families do not have a lot of support in their life and need some extra guidance to get them through a tough time. Telling a parent their child did a great job after school can mean so much to them. Also, Athena, the CLC therapy dog, is always coming in and out of my office. She is so sweet, and always wants some attention.
CEDARS: What do you like to do when you're not at work?
Katie: When I am not working I love to cook! I have Food Network on in my house most of the time! I also like to go to concerts with my husband and friends. On the weekends I like to go out to eat in the Haymarket, and relax at home.
CEDARS: What would you say to someone considering going into the type of work you do?
Katie: Working in this area is so rewarding. It is always enjoyable to see a positive outcome, or a child become successful. I think it is important to take time for yourself since there are stressful situations that may occur. At the end of the day, it is so great to know that you are making an impact in someone's life.