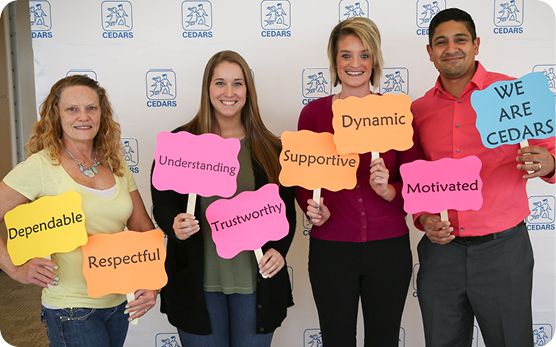 At CEDARS, we recognize the value of everyone's contributions in helping children find safe and enduring family relationships. The talent, passion, and dedication that each employee brings to our efforts increases our ability to succeed. If you are passionate about helping kids we may be able to help you find your fit.
Here are five reasons to join our team.
Integrity – Emily, a Family Partner in our prevention services defines integrity this way: "Remembering not just your morals and values, but trying to put your feet in their shoes, seeing where they are and starting from not where you think they should be but from where they are. Showing everybody, kids and parents alike, your good character and that you will honor and respect them."
Trust – "As far as trust," Barb, a Youth Specialist in our Life Skills program says, "without it, your kid's not going to talk, they're not going to want to respond or even follow any suggestions. Being genuine, following through, being reliable, punctual—being able to show them that following a certain positive behavior leads to positive outcomes. I also have to have trust in my coworker to be able to ensure that we're providing the same care."
Respect – "Everybody's doing the best with what they have," says Marissa, a Case Manager in our Pioneers Center Emergency Shelter. "And to respect somebody and respect the families that we work with, you have to keep that in mind. Not everybody has the same tools. They don't have the same resources that some people have. Respecting them is respecting that they're doing the best they can with what they have."
Compassion – "You have to have compassion for these kids," says Rico, a Service Director overseeing a myriad of services for youth. "If you don't have the compassion to understand that kids are going through a hard time and then turn around and provide them with the resources to get out of the hole they're in, you won't be successful without it. You have to have it."
Teamwork – "We pride ourselves on putting the right people in the right place," says Luke, a Program Manager of one of CEDARS Community Learning Centers. "We use teamwork and compassion to meet the needs of our students where they're at to bring everybody to the same place. We have some students who have individualized care that they need and we look at the staff members that they have the best relationship with and we place them with that staff member to help them and set them up for success."
Do your values line up with ours? If so, we'd love to talk about your available opportunities. You might also find that flexible, part-time work is right for you, like it is for Morgan.