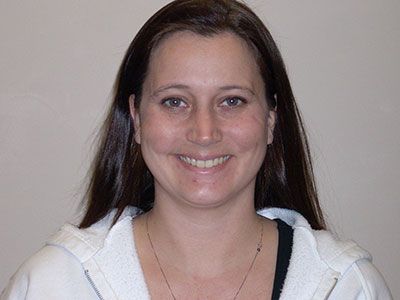 CEDARS: What was it like when you were a kid?
Sarah: I was adopted when I was two weeks old. I think this gives me a natural understanding of the work CEDARS does. One of my favorite childhood memories is going to Cass Lake, MN every summer. We stayed in a cabin on an island that you could only get to by boat. We would spend most of our time swimming, skiing, and tubing. We would also go on hikes, go on boat rides, and fish.
CEDARS: How long have you worked at CEDARS?
Sarah: Sixteen years.
CEDARS: What do you currently do at CEDARS?
Sarah: I am a Family Partner in the Bridges Program. Every day is different and sometimes your day doesn't go as planned. For example, you may think you have a day in the office and then you don't. A typical day can consist of meeting with clients (job searching, grocery shopping, budgeting, taking them to medical appointments, team meetings, court hearings, cleaning/prepping apartments, intakes, and office time). My favorite part is the interaction I have daily with clients and seeing clients overcome obstacles, accomplish things they may be struggling with, and being successful.
CEDARS: How have you found your fit at CEDARS?
Sarah: When I was in college I wanted to find a job that was a combination of working with clients and office work. I started at CEDARS in June 2001. I transferred to my current role in the Bridges Program in December 2003 which is a combination of working with clients and making connections with landlords and members of the community and the rest is history.
CEDARS: What is something you have learned while working at CEDARS?
Sarah: One of the main things I have learned since working at CEDARS is the impact that CEDARS has on clients. It is always enjoyable to have past clients contact you and have them tell you that you are a part of their story and the accomplishments they have made.
CEDARS: Is there one particular client that you feel was significantly impacted at CEDARS?
Sarah: I believe there are numerous clients that have been impacted by CEDARS. One of my favorite stories to tell happened 13 years ago. The youth we helped still keeps in contact with me. She was one of the first clients I worked with in the Bridges program. At the time, she was a single mother of an energetic 3-year-old, struggling to make ends meet. We helped her get safe, stable housing which gave her the stability she needed to obtain a degree from Southeast Community College. She and her family are doing very well now. In fact, she has a good job, is married, and they have two more children.