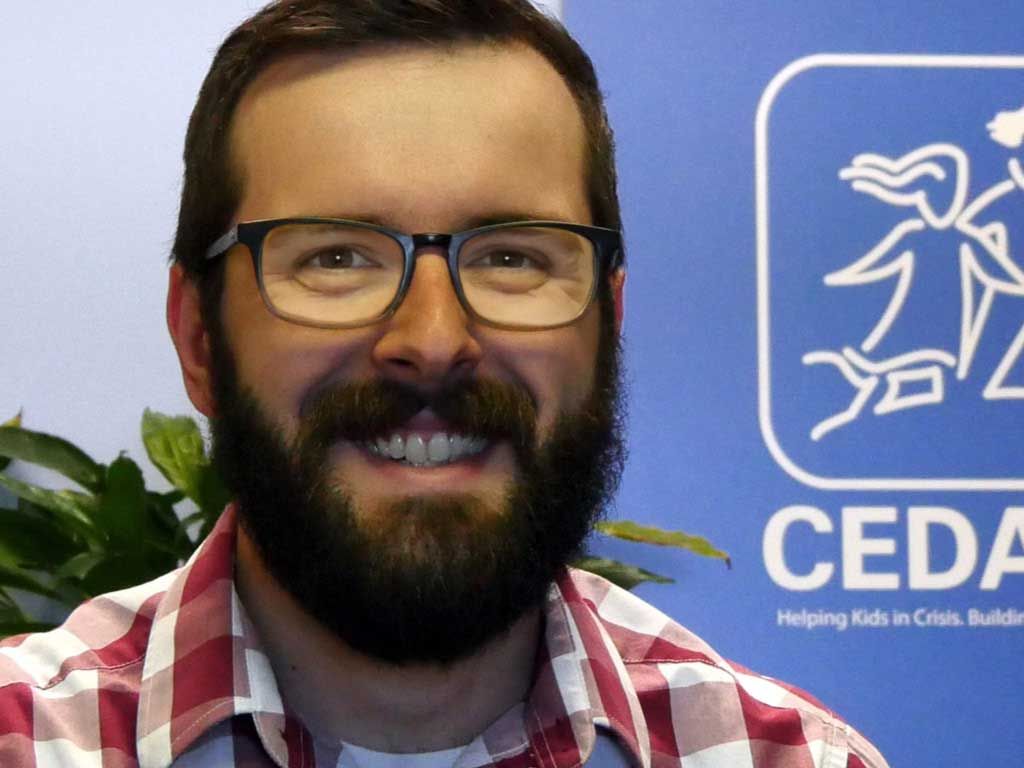 Dylan supports CEDARS foster families. In this interview he tells us a little about what that's like!
CEDARS: What was it like when you were a kid?
Dylan: I loved spending time outside when I was a kid. Some of my favorite memories were playing in my backyard or walking to the park and spending the afternoon with my neighborhood friends during the summer.
CEDARS: How long have you worked at CEDARS?
Dylan: About 2.5 years.
CEDARS: What's it like to be a Family Resource Partner?
Dylan: As a Family Resource Partner, I work with families and youth helping them maintain stability in the foster home. This can be assisting with appointments, transportation, connecting with resources, or just talking though a problem. A typical day for me can include documenting interactions or home visits with my families, calling and checking in or giving updates on court or team meetings, communicating with caseworkers, or meeting with youth or families. It's important to be flexible because you can have unexpected needs for clients come up that need addressed like a youth having a hard time at their home, unexpected transport, or helping out a coworker with something that has come up.
CEDARS: What keeps you coming to work each day?
Dylan: I truly believe the work we do at CEDARS has a tremendous impact on the youth and families we serve, and I love being a part of that.
CEDARS: Tell us how you've found your fit at CEDARS?
Dylan: I started my career at CEDARS in Family Support. I enjoyed my time in family support very much and appreciate the experience that I gained working with the families. I feel like the work I did and the families I worked with helped give me tools to work with all types of people. When I first started on the foster care team it was around the holiday season. There was a week where the majority of days had some kind of potluck, pizza, or other goodies brought in by someone. The amount of food was pleasantly overwhelming!
CEDARS: How do your values play a role in your work?
Dylan: Empathy is necessary for this kind of work. I try my best to always treat my clients with respect and understand that everyone comes from a different place in life, and that it's important to understand that when working with them. Additionally, I've learned that flexibility and patience are two of the most important things that you can have when working with youth and families. Every youth deserves a chance, and usually a second and third. It can be really hard to be a kid and the youth we work with have faced more challenges than most.
CEDARS: What is your favorite part about supporting families?
Dylan: My favorite part of my job is seeing the resilience of youth we serve. It can be really hard to hear about some of the situations that our youth come from, but seeing a youth overcome challenges and really thrive in a placement is really rewarding.
CEDARS: What would you say to someone who is interested in a career helping families?
Dylan: This type of work can be very fulfilling, but it's important to take time for yourself to recharge and reset when you start to feel drained.
CEDARS: How do you recharge?
Dylan: I really enjoy traveling to new places and checking out interesting restaurants. When I'm not traveling I enjoy spending time going to concerts (mostly any type of music) or with friends and family.
CEDARS: Is there one particular client that you feel was significantly impacted at CEDARS?
Dylan: I had the privilege of supporting a family working through a situation in which the children were living apart from their mom while she took steps to make home safe for them. This was an emotional time for both the children and their mom but because CEDARS was there to offer assistance to help her reach her goal of having her children home again, she was open to the ideas I was able to share with her. It was great to see this family reunify!