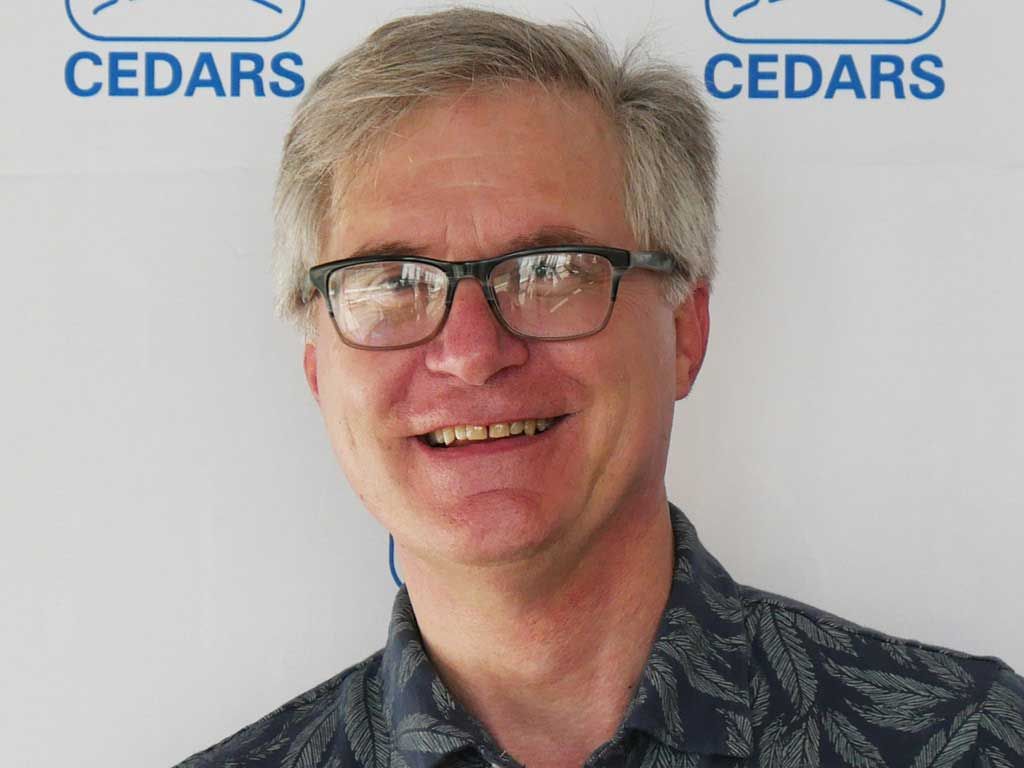 Jay is the Education Coordinator at CEDARS. His passion for making a difference helps youth find success.
CEDARS: Hi Jay! What was it like when you were a kid?
Jay: I lived out in the country not far from CEDARS on 56th Street in Lincoln, NE. I had a large family that included an adopted sister and children that my parents took in as foster children. School was a struggle because I have Dyslexia, but I don't remember feeling bad about it or different. I just couldn't do math or read very well. My brother and I spent lots of time climbing trees and fishing and we loved riding our bikes. I had the coolest orange sting ray bike with tiger grips on the handle bars, banana seat and sissy bar on the back. Too cool! I can remember civil rights marches, antiwar demonstrations and Woodstock (my older brother hitchhiked there to attend). I met my first (and only) girlfriend while sitting in Sunday School class on a red bean bag chair. I was 15 and she was 13 and I was in love from first sight. We dated all the way through college and got married as soon as I graduated. Kristy is still my girlfriend!
CEDARS: How long have you worked at CEDARS?
Jay: I joined CEDARS in August of 2016, supporting youth who come to CEDARS Reporting Center. When I first started in the Reporting Center I really loved the opportunity to teach clients about life skills, helping them to find jobs and do homework and I thought I would stay there for a long, long time.  But when the Educational Coordinator position opened up I really could see myself making the most difference there.  I put together a vision for where I thought CEDARS could go with assisting youth with their education, got the job and I haven't looked back.  I really found my "fit".
CEDARS: What is it like being the Education Coordinator at CEDARS?
Jay: Jim Blue, CEDARS President, says my role at CEDARS is to Advocate, Coordinate and Inspire. I have a long relationship with Lincoln Public Schools (LPS) since my wife has taught since finishing college, my sister recently retired from LPS after a long career as a teacher, administrator and leading in the district office and my oldest son is currently an administrator. With that background, I have the unique opportunity to bridge between the therapeutic, legal and educational aspects of a young person's life and help them to navigate their educational journey successfully. I also assist youth pursuing their college degrees here in town at the University of Nebraska, Wesleyan University, or Southeast Community College.
CEDARS: What types of supports are you able to give to youth?
Jay: I work with volunteer tutors to make sure youth have support for homework, attend school meetings, help them with paperwork that needs to be completed, encourage those who are experiencing educational disruption, and seek opportunities within the community to provide outside educational supports.
CEDARS: What keeps you coming to work each day?
Jay: I love the kids! I know what it means to struggle in school and I want to be there to help when I can.
CEDARS: What is something you have learned while working at CEDARS?
Jay: I have learned how resilient human beings can be even when life is dramatically unfair and cruel. I have learned to slow down and look at the child who is struggling, to look past the behaviors and see the core issues and then move the child in a healthy direction. I have learned I have lots of client heroes to motivate me when I am feeling down.
CEDARS: How do your values help you support youth?
Jay: Children and youth respond best to adults in their lives who show respect to them and show compassion. I am proud to say I belong to an organization that never gives up on a kid. CEDARS never gives up, never walks away and never looks the other way when a child or youth comes with a need. CEDARS is always there.
CEDARS: What is your favorite part about your job?
Jay: When I get to be around a youth who has just done something they never expected they could accomplish. Last year at LPS summer school one of the youth whom CEDARS had previously supported had completed the 10 hours needed to graduate from high school. Summer school staff bring in caps and gowns for those who graduate, take pictures, have cake and a small ceremony. I remember this young man sitting alone at the ceremony and so I sat with him. He told me following the ceremony that CEDARS was one of the only supports he had ever known and was happy and proud that CEDARS could support him even in his graduation.
CEDARS: What would you say to someone considering going into the type of work you do?
Jay: If you love kids, and if you want to wake up in the morning and know that by going to work you will be making a difference in someone's world. You will love this work.
CEDARS: What makes you passionate about helping youth?
Jay: I know how important education is to the future of our young people's success. Anyone who is around me for long knows that I suffer from Dyslexia. For most of my school career I couldn't learn like other kids. I graduated in the bottom ten percent of my high school class. My high school guidance counselor told me I was crazy to try to go to college. But I found that with the right support, encouragement, guidance, persistence, and advocacy, any individual no matter the difficulty can be successful in education.