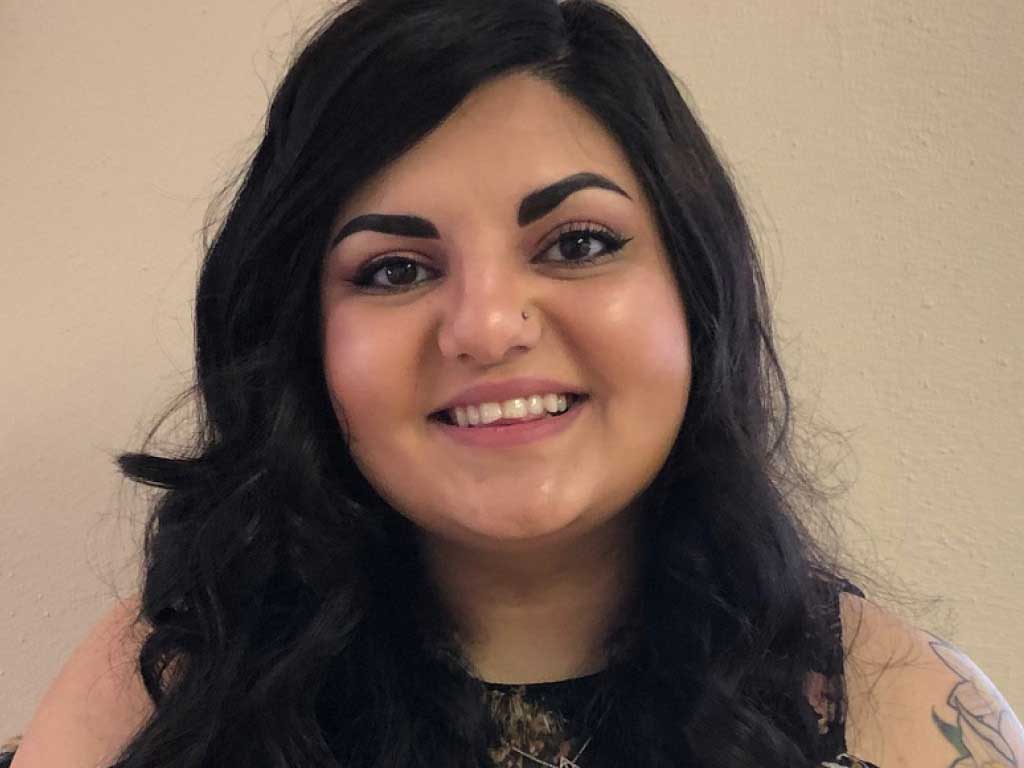 Samar provides safe refuge and a listening ear to youth in CEDARS emergency shelter.
CEDARS: Hi Samar! What was it like when you were a kid?
Samar: As a kid, I grew up in Iraq during conflict, war, and genocide, but that's not what I remember about my childhood the most. My childhood was filled with unconditional love and support from my mother who did everything possible to ensure her kids were able to have a safe and successful future in the US. I grew up a happy kid who did anything she wanted. My mother constantly supported me in any adventure from playing the violin and flute, to dozens of plays and theatre competitions, sitting through speech and poetry competitions, and helping ice sports injuries. My favorite childhood memories usually involved traveling all over the world and in the US to various historical monuments. The one memory I love most happened in my teen years when my mother and I spent an entire day sitting by the Mediterranean Sea in Istanbul just watching ships sail by.
CEDARS: How long have you worked at CEDARS?
Samar: I worked at CEDARS a couple of years ago in the Early Childhood Development Center. I loved my experience with CEDARS but I realized I wanted to work with an older demographic. I left CEDARS at the time and searched for opportunities to work with teenagers.  I recently returned to CEDARS in May! I am very excited to return to a company that truly demonstrates daily their commitment to their mission.
CEDARS: What is your current role at CEDARS?
Samar: My current role at CEDARS is called a Youth Specialist III. I work in our emergency shelter for youth as a lead on the evening shift, and I facilitate how the shift is run. We are not a cookie cutter facility. Our emergency shelter is meant to help youth by offering support and a safe environment. That may look different for each person. We are here to meet the needs of the youth we serve; our goal is always to find new ways to help youth in our care. 
CEDARS: How do you support youth in your role?
Samar:  I remember the kind of person and support I needed at their age. I want to be that person for them and for others. It's what I tell the youth when they ask me why I work at CEDARS. One of the ways we support the youth is, we want to make sure that even though they have an unusual living situation, the youth in our care are able to go to meetings, appointments, family visits, and outings. When the youth are not at outings, we make sure to have plenty to do at CEDARS including meditation, rec room activities, and opportunities to do activities with staff. The youth eat dinner with staff and do chores with staff as well, which helps to continuously foster and grow rapport. Honestly, the most fun time tends to be at the end of the night when the youth are getting ready for bed. That's when we all catch up with what is going on in our lives and have deep and lively conversations. It's the time of the day where we get the opportunity to grow our friendships.
CEDARS: What keeps you coming to work each day?
Samar: That's an easy one, the clients. I come to work each and every day for them. It's an honor and a privilege to be an adult they can seek out for support. There's no better feeling than knowing the kids trust me and they know I believe in them, and I always will.  I come to work every day knowing everyone at CEDARS is here for the purpose of helping others and that is very important and it's something that not a lot of other people can say they have at their job. I get to have a job where I can see how my involvement in the program is important for a client and can impact them in small ways and in big ways, nothing is better than that. 
CEDARS: What is something you have learned while working at CEDARS?
Samar: Everyone needs support and everyone can be part of another person's "survival guide." This means staff, leadership, clients, and everyone in-between. We all need support; and our experiences and resilience are a gift we have to help each other with. 
CEDARS: What do you like to do when you're not at work? How do you recharge?
Samar: When I'm not at work, I spend as much time as I can with the people I love. I love going to concerts, movies, traveling, and going to community events with my friends. When I'm not out and about, I like to recharge at home with a good book and my two tuxedo cats Oliver and Charlie. Self-care is important, and it's different depending on the day.
CEDARS: How do your values play a role in your work?
Samar: My values are who I am and they're what I share in any environment I'm in. My values play a huge role in my work, especially with respect to compassion and empathy. I believe teamwork, creating a positive environment for growth and support, and overall success come from a foundation of compassion and empathy in the field of direct care. I do my best to ensure that shows every day with my colleagues and our clients. We are a team and the best teamwork comes from groups that care about each other and support each other.
CEDARS: Is there one particular client that you feel was significantly impacted at CEDARS?
Samar: "A" stayed with us at CEDARS for a short time until a more permanent placement was ready. As is the case with most of our clients, she hasn't had an easy road. She had spent very little time at home in the past 2 years and missed her family. She is a very honest and open girl and knew she was ready to make a change to her life. I was lucky enough to be a staff member that she felt she connected with and we had many conversations about her past, her current situations, and her plan for her future. She told me she was scared but she was happy she had us here and we helped her feel safe and supported and she would make sure to make us proud in her future placements. I am so proud of her and I will always be proud of her and remember her. Sometimes we forget that not everyone gets a conventional childhood and adolescence and that everyone needs someone. I'm thankful to be the "someone" for the youth we serve.