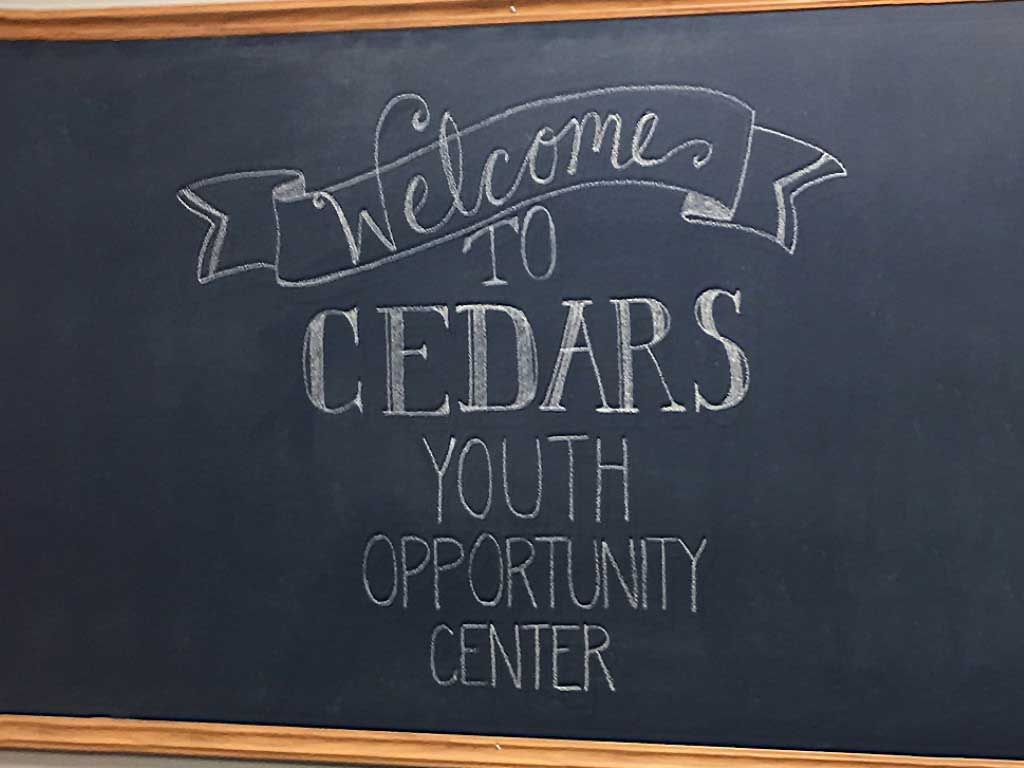 In January 2017, CEDARS proudly opened the doors to the CEDARS Youth Opportunity Center, or YOC as it is affectionately known, in downtown Lincoln. 
At the YOC, homeless and at-risk youth can "drop-in" to receive a hot meal, do laundry, follow hygiene routines, complete job and housing applications, receive education support, and simply sit and relax in a safe environment.
The YOC is operated by the CEDARS Street Outreach Services (SOS) team, which provides street-based assistance to runaway, homeless and at-risk youth in Lincoln, Nebraska. The Street Outreach staff work with youth between the ages of 13 and 21 years of age.
"My parents didn't want me at home," says one youth who has been helped by the CEDARS Street Outreach team. "I felt alone. Everything was coming down at once and I felt that no one was in my corner."
Without pressure or judgment, Street Outreach staff members support youth experiencing homelessness as they work to leave the streets for safe shelter, secure permanent living arrangements, or to reunite with their families.
"CEDARS provided me with shelter, food, everything I needed," says the youth. "Right now they're helping me budget. A lot of things I didn't learn I'm learning now."
In the last fiscal year, the CEDARS Street Outreach Team made 2,989 contacts with youth experiencing or at risk or homelessness and supported over 200 youth who needed a more intensive level of support, meeting with staff at least three times during a month.
"CEDARS helped me know that there's hope for everybody out there," the youth says. "I'm not alone."
CEDARS Youth Opportunity Center is located at 318 S. 13th Street in Lincoln and is open the following days and times:
Mondays: 12:00 p.m. - 4:00 p.m.

Tuesdays, Wednesdays, and Thursdays: 11:00 a.m. - 1:00 p.m. AND 4:00 p.m. - 6:00 p.m.

Fridays and Saturdays: 10:00 a.m. - 1:00 p.m.

Closed Sundays
Street Outreach staff members can be contacted 24-hours a day. Advocacy, information, and support services are also available to youth in schools, juvenile court, juvenile detention centers, other human service agencies and churches.
"Homelessness is their circumstance right now," CEDARS Street Outreach Program Director, Christina Lloyd says, "but it doesn't make the person who they are. It doesn't define them. We're honored to be here with the support of the community to assist them."
Currently the team is seeking donations of individually wrapped snacks to hand out along with information to youth in need during monthly Food Markets in local schools. Additionally, the team is in need of full size shampoo and conditioner, toothpaste, bodywash, hairbrushes, and pull-ups sizes 2t-3t and 3t-4t. Donations can be dropped off at 6601 Pioneers Blvd.
For more information about how CEDARS helps kids in crisis and builds strong families, call 402-434-5437.