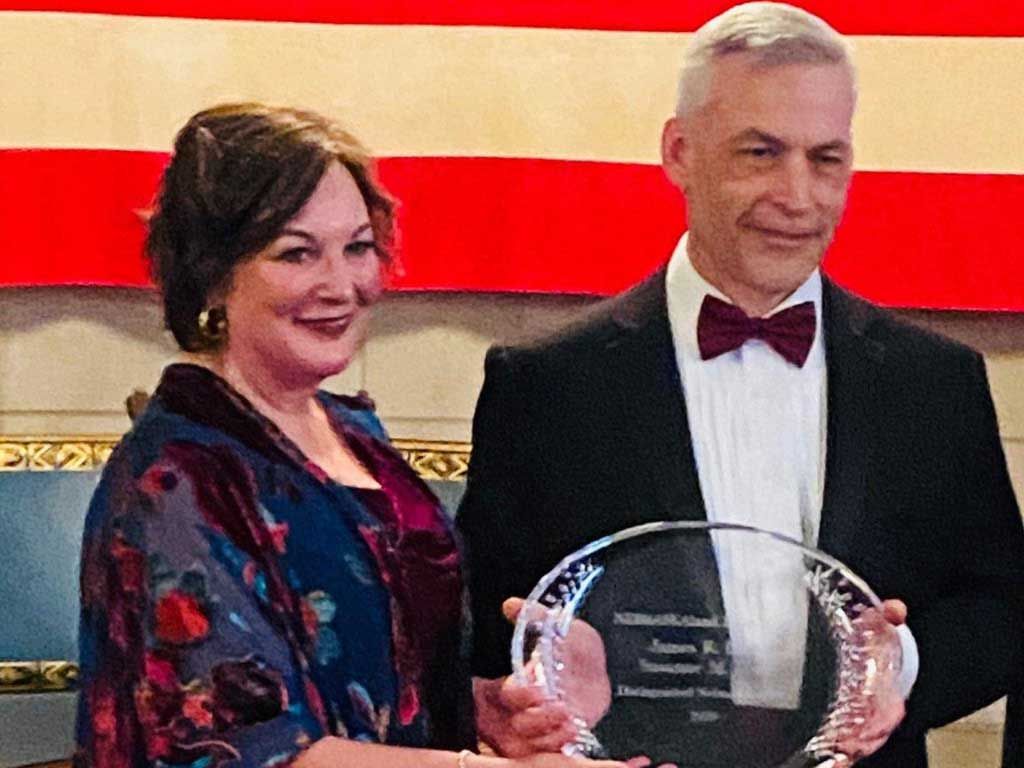 Jim and Susanne Blue were honored at Nebraska's 2020 Statehood Day Banquet on February 29 in the State Capitol Rotunda. These two human services pioneers were selected by the NEBRASKAland Foundation Board of Directors for their incredible impact on the community.
As the Executive Director of Matt Talbot Kitchen & Outreach, Susanne Blue has dedicated her life to bettering the lives of the working poor and homeless in Lincoln, Nebraska. She has held her position for over twenty years and is the first director of the organization that started with a group of ambitious volunteers twenty-seven years ago.
Over her past twenty-one years as Executive Director, Susanne has expanded Matt Talbot's organizational scope from a hunger relief organization to one offering comprehensive housing, case management, substance use counseling and nutrition programming for families and individuals experiencing homelessness or at risk of homelessness. Hunger relief and nutrition remains at the heart of Matt Talbot's programming, serving over 100,000 meals per year, and acting as an anchor and point of entry for these families and individuals. 
Susanne's motto is "Keep Hope Alive" and it is this attitude that has guided her efforts in leadership and advocacy on behalf of those most vulnerable in the state.
Described by peers and colleagues as having contagious passion for helping kids, Jim Blue proves himself to be a relentless advocate for children.
Since 1991, Jim has served as President of the CEDARS organization, an organization founded in Lincoln by caring community members who saw the tremendous needs that children and their families face every day. Under his leadership, the nationally accredited CEDARS organization was the first-ever recipient of the Better Business Bureau's Integrity Award for a non-profit organization. Jim's heart reflects the heart of CEDARS, a strong desire to help children and youth achieve safety, stability and enduring family relationships. Community support allows CEDARS to serve children and youth unable to live at home, families in need of resources, support and education and youth involved in the juvenile justice system.
"I know of no one more deserving of this award," says CEDARS board member and past NEBRASKAlander awardee, Judi gaiashkibos. "Jim's passion for improving the health and well-being of children and youth is contagious. His exceptional leadership has provided a solid foundation to serve children and their families well into the future."
Together Jim and Susanne Blue are a dynamic duo in the human services field - both starting their careers in Omaha and then moving to Lincoln where they have lived for 30 years. They have been married for 35 years and have two adult children.