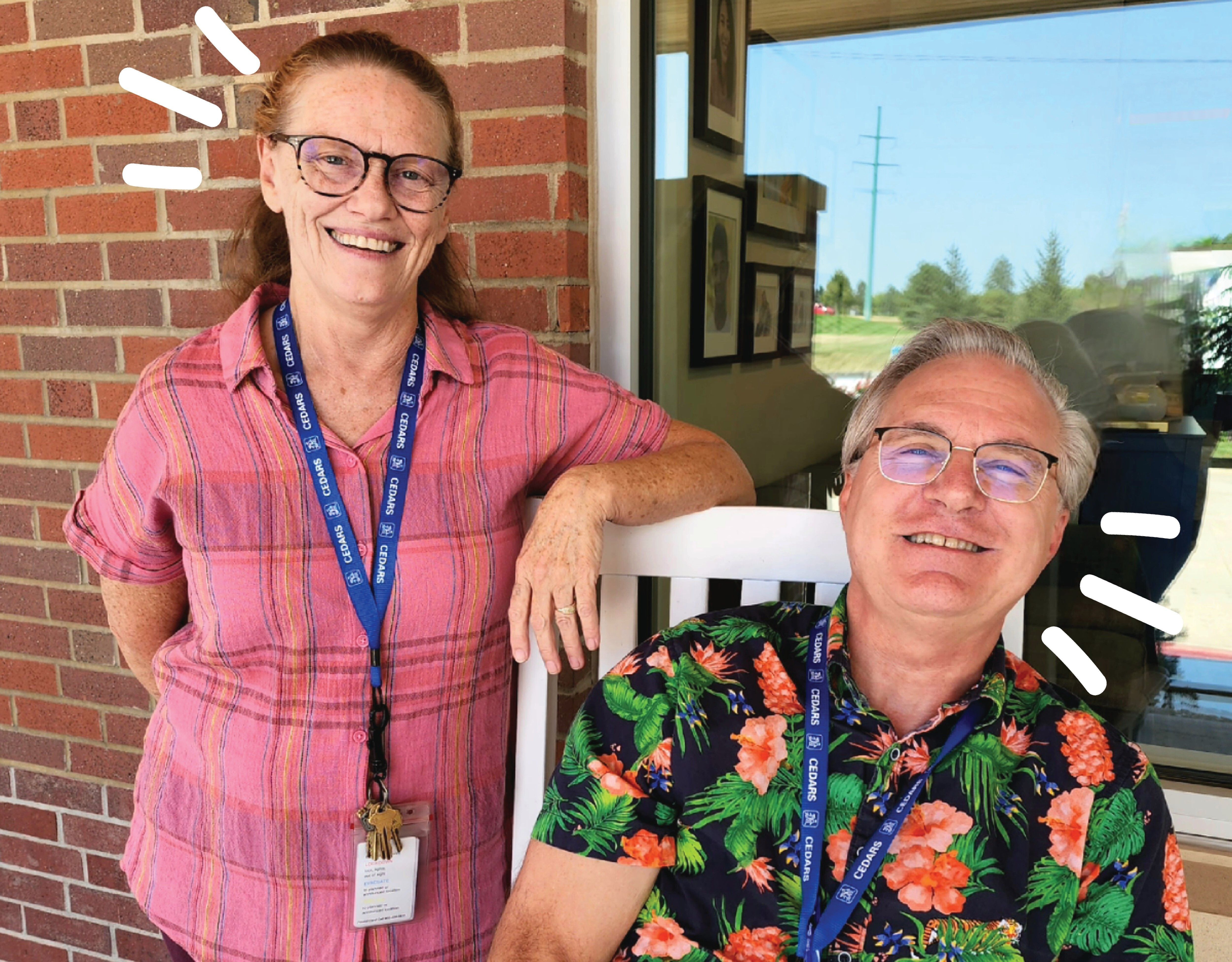 Today, we are highlighting the amazing work that Jay Voigt and Barbara Maldaner do as our Education Team! 
These fun-loving and joyful folks enthusiastically help kids in our care to meet their education goals. Many of the kids we serve come to us with circumstances that are disruptive to their education. Whether that be due to family trouble, involvement in youth intervention programs, or a lack of stable housing—our education team steps up to advocate for students in these diverse situations and do everything they can to invest in their education.   
Through Jay and Barb's efforts, CEDARS is pioneering a new approach to education for these kids that focuses on creating a 'no disruption' model of education. They work closely with school districts across Nebraska to ensure students are receiving a consistent and supportive academic experience.  
CEDARS education team also partners with the Brain Injury Alliance of NE to create curriculum designed for kids challenged by Traumatic Brain Injuries (TBI). Over half of the students we serve have previous or ongoing traumatic experiences which can cause education and behavior challenges. Jay and Barb have worked alongside many students to help them recover from TBI and believe whole-heartedly in fostering an atmosphere of healing and academic success for their students.  
---
 Jay and Barb say that there are 3 skills they use most in their work: the 3 C's of CEDARS Education! 
Collaboration- 
Working together alongside the many people involved in a student's education is a critical part of the work that Jay and Barb do. They are both great team players that excel at conflict resolution and communication! 
Coaching & Motivation-  
Barb thinks about her work with students "like being a positive influencer! You get to help a kid see themselves for who they are, not what everyone else says about them".  
Both Jay and Barb have had their own unique struggles with their educational journey as young people, and they believe that makes them better equipped to connect with kids and help them find the motivation to be successful.  
Community Engagement- 
Our education team is a small but mighty force!  And it takes a lot of people to support a student, so Jay and Barb often rely on the community to come alongside these kids so they can have the opportunity to be successful academically.  
Our education staff take a holistic approach to caring for their students, building a community of people around them so that they feel supported and inspired to reach their goals! 
---
Help us congratulate Jay and Barb for the awesome work they do for kids and families across Nebraska!