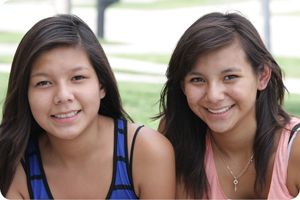 Here at CEDARS we're fond of saying that there is no typical foster family. The same is true of kinship homes, which occurs when a foster child is placed with someone already known to the child. This is usually a close family member, such as a grandparent or aunt or uncle, but sometimes it is a neighbor, teacher or family friend. We believe that all it takes is a stable home, an open heart and the willingness to help a child in need.
Last month Jack and Stacy celebrated the adoption of Amber and Kara, Jack's nieces. It was our honor and joy to support them through this journey. One year ago, when Jack and Stacy opened their home to the two teens, they chose CEDARS as their supporting agency for their kinship placement. Without any prior parenting experience, Jack and Stacy really felt out of their element.
"They were our nieces," Jack said. "It was supposed to be easy. I had watched them grow up. I already knew them. I didn't realize just how difficult parenting was!"
As our Foster Care team came alongside them they immediately recognized that this family could benefit from some additional supports. Our Foster Care team called in our Family Support team, which was able to dedicate a Family Resource Partner to the family to help Jack and Stacy learn to be more effective parents using essentials from the Love and Logic ® parenting series as well as to address certain safety and mental health concerns of the girls.
The team used a wrap-around approach, utilizing CEDARS Life Skills center, CEDARS Education Specialist and Therapy services. Jack and Stacy were relieved when Kara and Amber seemed to be fitting in and making progress, but were devastated when the girls tried running away after only a short while.
As so often happens with foster youth, running away becomes a means of grasping for control in one's own life. Trust in adults is rare for youth who have experienced trauma. Kara and Amber tried to pull away from Jack and Stacy before they could be hurt again—or be loved again. But the act felt hurtful to the couple.
"We wanted to provide what was best for them. We just weren't understanding what that was," Jack said.
CEDARS helped the couple further understand what the girls needed, and with hard work and dedication from the Foster Care team, the Family Support team, and the family members themselves, they stayed together and are now celebrating a wonderful new reality.
"I never thought it would become permanent," Jack said. "But things happened. When my sister relinquished her parental rights, I'm glad I was here for my nieces. I wouldn't change a thing."