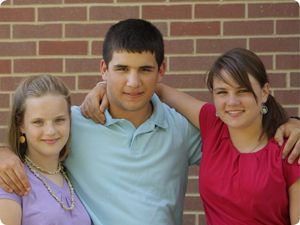 As a single mother, Deena felt alone. After overcoming years of addiction, she acquired a fulltime job and was able to bring her teenage children home from the care of a close relative. It was only then that she learned how her children had suffered substantial abuse in the hands of someone she trusted. Because of the trauma they experienced, each of the children struggled with complex and overwhelming behaviors. Her oldest, a young man of sixteen, was involved with the court system due to drug use and skipping school. Her youngest, a young girl of twelve, was recently hospitalized for severe mental health issues. Deena did not know how to help them. She could no longer trust her relatives, and she knew she didn't have answers herself.
She turned to CEDARS.
When Deena came to us, she did not know the importance of consistent mental health care for herself or for her children. But she came with a strong desire to help her family to be successful.
Emma, a Family Partner from our Partners in Permanency program, walked alongside Deena and her family to support them and to help them to set and to realize healthy goals. Deena was able to set personal goals to become financially, emotionally and physically healthy. She was also able to set goals to provide consistent mental health care for her children after learning how important it was. Together, the family set goals in healthcare, budgeting and financial stability, and school performance. Throughout the time spent together the family developed another goal. They wanted to improve their relationships with each other.
With the help of Emma and the CEDARS team, the family completed all of their goals.
Deena told Emma that she has found support in several friends and trustworthy family members. This has helped much of her stress to dissipate.
"We feel like a family. We can focus on each other now," Deena said before she became overwhelmed discussing just how far her family has come. She hugged her youngest daughter close and fought back tears. "We're a family."
Yes, I want to help make a difference in the lives of families like Deena's.