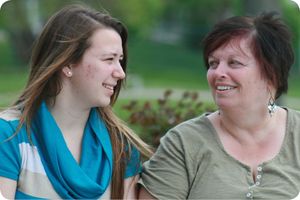 It is CEDARS number one priority to provide safety for every young person who comes to us for care. While safety is absolutely necessary for a child's wellbeing, it is not the only thing needed. Children need to feel loved, cared for and valued.
Most often this occurs in a family setting, but for those youth who are spending time away from their home, we work hard to ensure they still feel significant and loved.
Hailey Ann came to CEDARS while she was transitioning back home after a time spent out of her home. Her mom wasn't equipped to provide for her yet, so we were able to provide Hailey Ann with safety and stability while her mom received the support needed to make the home ready.
The CEDARS team noticed that Hailey Ann's birthday would occur before she could return home to her mom and planned to make the day a special one for her, including a cake made by Drew in the CEDARS kitchen, and a small gift.
No one wants to experience a birthday away from family.
In the days leading up to her birthday, Hailey Ann's demeanor began to change. She was withdrawn and down. The CEDARS team noticed and gave her extra support as she needed it throughout those days. Hailey Ann's unusual mood was also noticed by Ashley and Tamara, two teens also staying with us. They approached Hailey Ann about it. Hailey Ann confessed her sadness and frustrations about being away from home on her birthday. Her new friends sympathized and privately discussed ways to cheer her up.
The girls made signs to greet Hailey Ann on her birthday morning. They also purchased their own gifts for her from the Shelter Canteen.
Hailey Ann was surprised by the support from her new friends and CEDARS staff. She was expecting her birthday to be just another day, but instead it felt like a real birthday, even though she was away from her mom.
When her mom was fully equipped to welcome her home, Hailey Ann made the transition, taking with her a positive experience from a safe environment—ready for a successful future.