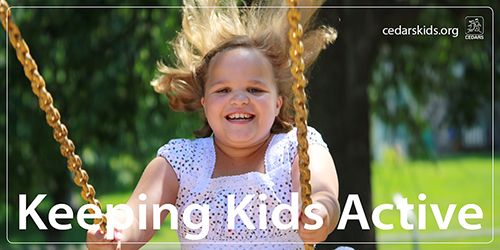 Getting young people to stay active can be a challenge in our world filled with video games, pre-recorded television, and addictive cell phone apps. It seems like everywhere you look, youth are being enticed to sit and stare at a screen. But keeping kids active is more important than ever--not only for their current well-being, but for their future health as adults.
Make it fun.
In general, people are more likely to participate in something that they view as fun over something that they view as work. Making exercise a fun experience is particularly important for kids.
Make sure to engage friends and family while encouraging kids to get healthy. Join a sports league. Go for a family bike ride. Play a game of freeze tag with other kids in the neighborhood. The Partnership for a Healthy Lincoln is a great resource for ways to make exercise fun.
Make it a routine.
If your family's schedule allows, choose a consistent time every evening/week for fitness. Perhaps you can schedule fitness for the first hour after school gets out or a routine walk after dinner. Make a ritual out of going to the park every Saturday morning.
Make it a family value.
Youth value what their parents value. Luckily for you, this means an opportunity to stay active and healthy for yourself. When your children see you making a priority to stay physically healthy, it will become a part of their concept of normalcy.