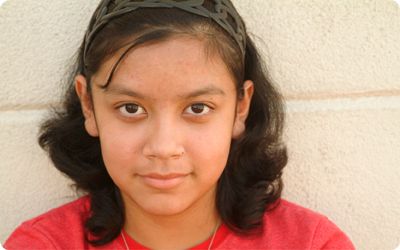 Stacia was scared and alone.
After a recent fight with her mom, Stacia stuffed some clothes in a duffel bag and left. At the time she was angry and knew she needed a break to cool off and think things through. She hadn't planned ahead of time, so once she left the house, she texted some friends and family to ask if she could spend the night.
Her cousin took her in for a few nights but with her own family to provide for and resources slim, she came to the difficult decision to ask Stacia to find somewhere else to stay. For a few weeks Stacia spent a couple nights on a friend's couch and moved on to another friend's place. When she ran out of friends to ask for shelter, Stacia made the decision to ask her mom if she could return home.
The two hadn't spoken since Stacia ran away. When she called home, the conversation quickly developed into another argument. Stacia hung up the phone with nowhere to go and no one she could trust.
Stacia remembered seeing a poster for CEDARS hanging at school but wasn't sure if she would fit into our services. She was also hesitant because she was afraid of being stigmatized for running away.
Desperate and growing hopeless, she called us.
The CEDARS Street Outreach Services (SOS) team, which works specifically with homeless, runaway and at-risk youth, arranged to meet Stacia where she was. They met at a downtown coffee shop. Without judgment or pressure, the CEDARS team listened to Stacia's concerns about her family, school and her job. We offered safe ways for Stacia to leave the streets.
Through the support of our generous friends we were able to provide Stacia with safe housing and transportation so that she could maintain positive school status and remain in good standing at her job too.
Thanks to hard work from Stacia and her mom and encouragement by the CEDARS team, Stacia and her mom are reconciling. They both want the relationship to continue and are learning how to listen to each other.