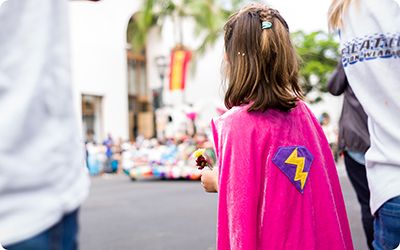 "I want to be a unicorn. No, I want to be a princess. No, I want to be a puppy."
Stay calm; we have some last minute Halloween costume ideas for your little ones! Life can get busy and sometimes thinking of a costume slips our mind. Having these ideas on hand will make your decisions easy! Plus, they are quick and easy for anyone to do and your child will have a great costume! Many of these costumes include things you probably already have at home.
Super Spider Kid! This costume is quick and simple. Start with some black pants or tights and a black shirt. Then, wrap some fake "spider web" (this can be found in the Halloween decorations aisles) around their body and attach the little plastic spiders that come with the "web." More ideas like this can be found at marthastewart.com
Pink Flamingo! Pink tights, pink dress, felt and a couple feather boas are all you need. Cut the boas into thirds. Then, tie e boas around a piece of ribbon long enough to tie around your child's waist. This creates the flamingo body. As long as the boas cover the front of your child, that is all you need. Cut a circle from pink felt for the flamingo head, and a beak shape from black felt. Attach these to the end of one of the boas and loop it up around the child's shoulders. More ideas like this can be found at diynetwork.com.
Scuba Diver! This costume is so simple! Start with a black hooded sweatshirt and black pants. Cut off the top of a liter bottle to create a mouthpiece and attach to some cord-keeper tubing. Spray paint 2 two-liter pop bottles to make air tanks and attach the other end of the tubing. Use a nylon cord belt and attach 4-5 scouring pads to it and wear around the waist. Add some swimming goggles and you have a scuba diver!
Clark Kent (Superman)! If your child has a superman shirt, then you have the beginnings of a Clark Kent costume! Add a button up shirt over the superman shirt (unbutton most of the buttons), tuck it in to a pair of jeans, add some black framed glasses, some tennis shoes and there you have it! Optional additions: suspenders!
-Hilary is a Service Delivery Specialist at CEDARS. She has won the annual staff Halloween costume contest 2 years running.