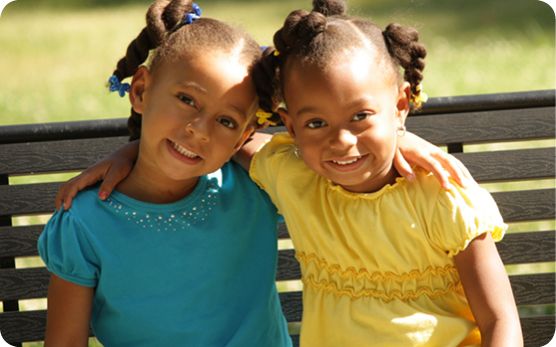 Hazel and Leona, sisters only a year apart in age, came to us because their living situation was unsafe. Leona, the younger of the two, was only a year old at the time. Doctors were concerned about her development which was delayed because of the neglect and abuse she had endured.
The foster parents in our network do not shy away when a child is in need. Gail and Robert opened their hearts and home to Hazel and Leona, knowing the reality of the trauma the girls faced and knowing the depth of love and attention they would need to wrap around these girls to create a stable childhood for them.
At first Leona wasn't making much progress. But Gail and Robert—and Hazel too—kept their positive attitudes because they believed that Leona could overcome any obstacle.
In the nurturing arms of Gail and Robert and with the encouragement of her sister, Leona has made great progress. She has caught up to many developmental milestones for children her age.
Most parents celebrate milestones such as when a child rolls over for the first time or when a child sits up on their own, but for parents and foster parents of children facing extreme odds, these milestones are cause for even greater celebration.
It has been a great joy to see Leona's development while in the nurturing arms of Gail and Robert. With supportive foster parents and an encouraging sister, Leona has made great progress.
With the support of the CEDARS Foster Care team, Gail and Robert plan to adopt both girls and turn the safety and stability they have provided into enduring family.